POWs/MIAs remembered at ceremony: 'We refuse to forget'
By Margaret Downing
Reporter
LOVES PARK – As has been the custom for a number of years, the Rockford Charter Chapter VietNow held its annual "National POW/MIA Recognition" event at the Loves Park city hall complex Sept. 18.
Due to inclement weather turnout wasn't as large as anticipated but attendance was good. In good weather, the ceremony is held in the Arthur W. Anderson Field of Honor but due to rain, was held in the city hall gymnasium.
Information provided by VietNow notes, "The Recognition Day" ceremonies are held throughout the nation and around the world on military installations, ships at sea, state capitols, schools, churches, national veteran and civic organizations, police and fire stations and so on.
History on the event includes, "The first POW/MIA Remembrance Day Ceremony sponsored by Rockford Charter Chapter VietNow took place in the mid-1990s. Mike Parker was quoted, 'It was a team effort. We felt it needed to be done and we did it. It was an effort to raise public awareness of the issue, just like it is now, and to encourage our representatives to take action.
"Bruce Jacobsen happened upon the first POW/MIA ceremony as a passer-by and has been the event chairman since 2007 of the VietNow-sponsored Free POW/MIA Candlelight Remembrance Ceremony (no price for admission). The term 'Free' also relates to compelling the 'Freeing' of POWs and MIAs, not just remembering them or being in fellowship with their families."
A regular at the ceremony year-after-year was MIA mother Dorothy Boyer who passed away last year. Her son, Alan, went missing in action in Laos in 1968. Mrs. Boyer never gave up hope for 46 years. The Rockford Chapter is named after Alan.
VietNow President Rex Wright noted that there are currently 1,627 POW/MIAs still listed.
The Rockford Wind Ensemble performed a number of patriotic tunes for attendees. Vocals by Ryan Jenkins were very well received.
A 10-minute play, "dramatized the scene as a man and his wife prepare to mark the grim anniversary of his brother's disappearance in Vietnam…when they receive a surprising gift from a strange…a POW/MIA bracelet." The play was written by Michele Merens of Bayfield, and was performed by Rita McGeary and Ken Dull from the Pec Playhouse Theatre, directed by Michael Dice.
A letter from POW/MIA wife Carol Hrdlica was also read, in reference to her husband, Col. David Hrdlica, who went MIA in 1965.
VietNow Rockford Charter Chapter Chaplain Bob Theroux gave the invocation and benediction.
Gold Star mother Angie White, assisted by Rene Martin, performed the "Missing Man Table Ceremony." Reading of Illinois POW and MIA names from the Vietnam War era was done by Warren Ramsey and Milana Herman.
Bell tolling was by Gene Koelker of the Rockford Navy Club. A 21-gun salute by the VietNow Rockford Charter Chapter Color Guard was performed at the end of the ceremony, and Vicki Hastings and Paul Saltzgiver, drummer Bruce Strunk, played Taps.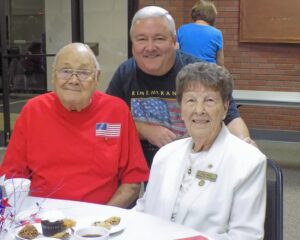 Gold Star Parents Jim and Angie White with son Jim are big supporters of the VietNow event. Son SSG Ken White died in Vietnam on May 1, 1969.