Roscoe Rockton Junior Indians begin new football season
By Marianne Mueller
Reporter
ROCKTON – Coaches, football players, cheer squads, friends and family of the Roscoe, Rockton Junior Indians organization celebrated the opening of a new season on Aug. 8 at The Rockton Sports Complex.
Andy Gannon kept the excitement of the day's action rolling as the events announcer.
In silent splendor and with hands over hearts everyone watched intently as the Rockton Walter Graham American Legion Post #332 presented colors.
A perfectly harmonized, sensational rendition of the National Anthem was sung by sisters trio Kameo, Lydia and Grace Krienke.
The Junior Indians has more than 500 participants. They are part of two conferences, one of which is the Stateline Jr. High Football Conference, the only middle school football program that covers the Junior Indians seventh and eighth grade purple and gold teams, known as the Junior Indians.
Currently 11 schools from the area make up this conference.
The flyweight, lightweight, Middle weight and Heavyweight squads known as the Chiefs and Hawks fall under the umbrella of the Northern IL. Football Conference. It is comprised of more than 40 teams from 16 different organizations.
Overseeing the entire Junior Indians organization is a Board of volunteers Directors. Mary Lewis is serving in her twelfth year as President. Teaming up under her leadership are  Adam May, Jessica Poppe, Linda Kentner, Stephanie Broege, Greg Emanuel, Brian Hulburt, Mike Keister, Ron and Michelle Krumsee, Don Lester, Doug Nelson, Russell Rogge, and Andy West. Dennis Kentner is the Athletic Director.
Adam Cross serves as the Football Coaching Coordinator. Cheer Directors are Tara Smith and Anna Hulburt. Organizers of the NFL punt, pass, and kick competition are Don Vogt and Rich Lewis who return every year to work in this capacity! Volunteers assisted on opening day including the Senior Varsity Football players.
Local dignitaries and supporters were on hand to welcome in the new season. Roscoe Village President, Dave Krienke, Rockton Village President, Dale Adams, Rockton Village Trustee, Jodi May, Senator, Dave Syverson, Prairie Hill Superintendent, Wes Heiar, and Roscoe Township Board member, Matt Servant were each recognized.
As an extra special touch each was presented with a football helmet as a token of appreciation.
A special note of thanks was sent to the Villages of Rockton and Roscoe for the use of their fields and continued support of the football and cheer programs.
Football and cheer teams were joined by coaches and assistants who excitedly hit the field to be recognized as each division was called. Billed as the newest addition to the RRL Junior Indians family are flag football players. Great applause arose from the stands!
Cheer teams captured attention as they performed sideline cheers and catchy routines. High energy moves took center stage as the Cubbies, division cheer squads, the Xtreme Xplosion, Xtreme Sparks and the Jr. Indians Xtreme squads wowed the crowd!
Adding to the day's fun was the return of the NFL punt, pass, and kick competition. Those emerging as winners will advance to sectionals in October. Sectional winners can advance to the team championship, which will be held during a pre-game or a half time of a Chicago Bears game. Winners in different age categories ranging from 5 and under up to a 14-15 year age bracket.
Those who earned top  honors were: Mason Houghton , Isabella Yalden, Nolan Mabie,  Stella Leopold, Braxton Mazurkiewicz, Madison Smith, Brady Sendele, Madelyn Thom, Caven Colwell, Marlee Jo Peterson, Blake Derr, Mirranda Smith, Hayden Hundley, Madelyn Houghton, took honors.  Drake Emanuel, Emma Clark, Noah Alms, Jonathan Conrad, Logan Villafuerte, Alexis Vogt, Bryce Goodwine, Tashiana DeLeon, and Cade Burow, Christian Mazurkiewicz, and Trey Van rounded out the list of top punt, pass and kick competitors!
All first, second and third place winners received a Walmart gift card, courtesy of the RR Junior Indians
Everyone had a chance to become better acquainted at a potluck style picnic. A new season was kicked off in full style with a full day of fun followed by showing support at a Roscoe Rush game that same evening!
Participants in the Roscoe, Rockton Junior Indians organization will recognized as special guests at the Hononegh football game, on Junior Indians night on Sept. 11.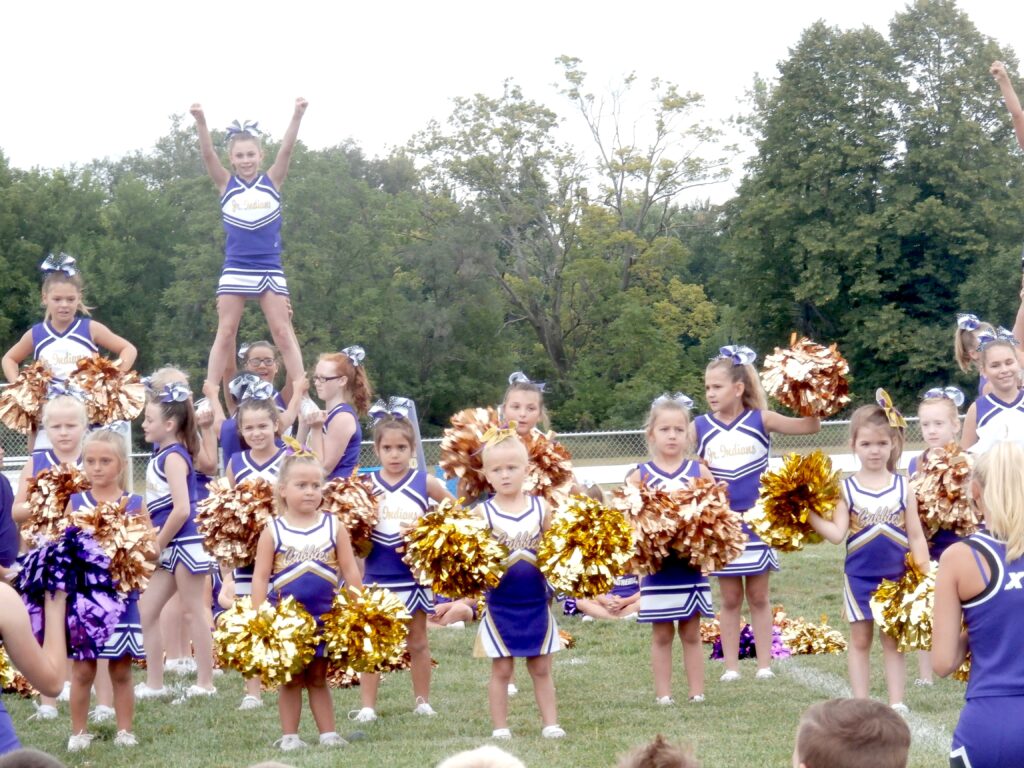 Cheer teams gave a performance full of high energy moves!