Thunder Roars in Belvidere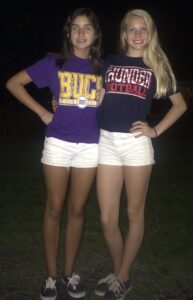 By Bob Kopp
Belvidere Bucs sports correspondent
BELVIDERE – Despite junior Austin Revolinski's razor-sharp passing and bullish power running in the first half to spearhead a 20-14 lead, the faithful Funderburg Stadium fans sensed a thundering storm in the forecast.
With North's offensive line dominating the trenches and Head Coach Jeff Beck enlisting legendary former Head Coach Curt Tobin, who established Belvidere North's quick rise to respectability in the NIC-10 with his genius for halftime adjustments and developing schemes for players' talents, to direct traffic from the booth.
Any hope of purple reign in Belvidere ended with declaratives about North's determination to build upon last year's conference championship and current dominance of the cross-town rivalry.
Revolinski, 8-14 and 213 yards in the air along with a team-leading 91 tough yards on the ground, threw scoring strikes to senior Tremaine Gooden (35 yards), senior Dayquan Coleman (71 yards) and sophomore Phil Kolk (47 yards) in the first half.
Except for a late 21 yard scampering score by senior Eric Munoz with the game no longer in doubt, the Bucs offense sputtered in the second half.
Last year's Thunder roared behind the unstoppable air attack led by quarterback Jace Bankord and standout receiver Kyle Tevebaugh.
Proving inevitable Illinois High School Hall of Fame Coach Tobin's knack for developing schemes for the talent in the locker room, this year's team sports a no-surprise-smash-mouth-in-your-face-you-know-it's-coming-and-you-can't-do-anything-about-it-anyway power running machine.
Behind a rugged offensive line that the Bucs could not deter throughout the evening, junior Jason Rodgers racked up 234 uncontested yards with three scores and senior Jared Cantu, who sends shivers through opponents whenever he touches the ball, added another 59 yards including a shifty 35 yard touchdown dash that kept North from falling too far behind in the first quarter.
North played like defending conference champions and paid no attention to pre-season prognostications about this being a rebuilding year.  Instead, they restructured and reloaded to resume their reputation as a formidable force in the NIC-10.
The Bucs should get a breather next week as they travel to Jefferson which was pounded again by Guilford 55-6.
While the Bucs are the smallest school in the conference, they have plenty of talent and a superbly dedicated coaching staff to resume their desire to contend for a conference championship and deep run into the playoffs.
But, for now, there is no purple reign in Belvidere. Belvidere North won the Friday, Sept. 4 game 41-26 over the Belvidere Bucs.
Thunder roars!