A Hecox family tradition continued
By Shelby R. Farrell
Reporter
MACHESNEY PARK – While the Hecox brothers from Machesney Park are known for throwing people down on the wrestling mat, one brother was awarded for lifting people up.
Mayor Jerry Bolin recognized Kailor Hecox, a 2015 Harlem High School graduate and student at Olivet Nazarene University, with the Mayor's Award of Merit at the Village Board of Trustees meeting on Sept. 21.
"On behalf of the village, I'd like to express my appreciation for your dedication as an honor student, as an athlete and an outstanding representative of the Village of Machesney Park," Bolin said. "You have demonstrated to the youth of our community how to persevere in the face of defeat and encourage others efforts to succeed.
"Your hard work and determination has accumulated to achieving third place in the IHSA Class 3-A Wrestling Championship. You make Machesney Park proud, very proud."
Kailor, like his two older brothers Sage and Sterling, is well known in the wrestling arena. The Village of Machesney Park has also recognized Kailor's older brothers for their community accomplishments, including when the mayor proclaimed April 11 as Sage Hecox Day in the spring of 2014.
"I saw my brother do it last year, and it really inspired me to try to do more," Kailor said. "It feels great to by noticed for my achievements. I'm really thankful that I could get that kind of recognition."
The Machesney Park native has a long and varied list of community activities. He said throughout high school he volunteered at the Rockford Rescue Mission and played piano at various nursing homes for the community's elderly population. He volunteered with his church in a variety of opportunities, such as cleaning yards or parks. He also helped with cleanup projects after a tornado.
"I was raised to do this kind of thing," he said. "Even when I was little, we were helping people around the community. I like helping people, and I knew it could help me someday with college applications and resumes."
While the thought of college applications and seeing his brother succeed fueled Kailor to volunteer more, he said his parents had him and his seven siblings cleaning up trash and helping people in need from a young age.
"It definitely made me a better person," he said. "It instilled a sense of character to volunteer and see that some people aren't as well off. It definitely opened doors. I got to meet people I wouldn't have before, create relationships. I could encourage other people and make the world a better place."
The Illinois Department of Transportation is also awarding Kailor for his athletic acheivements as part of the Community Awards Program. The Illinois DOT will erect a sign at each entrance to Machesney Park on IL 251 and IL 173. After a year in place, the sign will be presented to Harlem High School.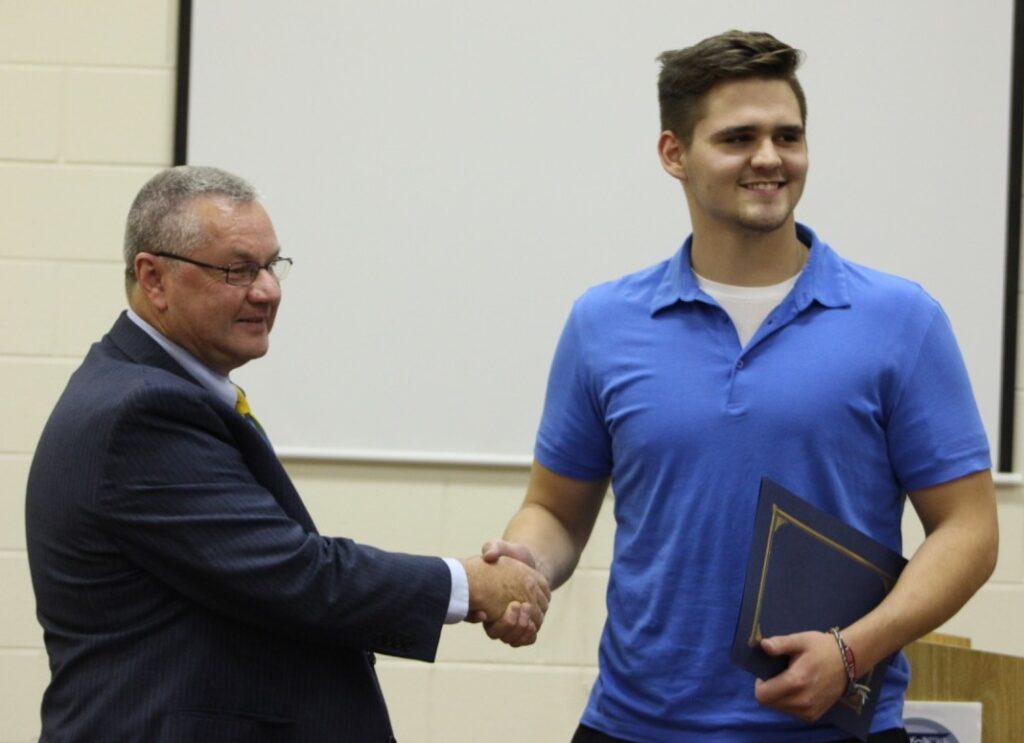 Photo by Shelby R. Farrell
Machesney Park Mayor Jerry Bolin awarded Kailor Hecox with the Mayor's Merit on Sept. 21 at the Village Board of Trustees meeting.