Brianna Wellen Electric Boogaloo Trivia Night fundraiser nets over $2,000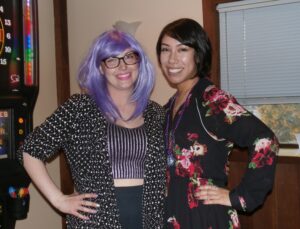 By Marianne Mueller
Reporter
ROCKTON – Hundreds of supporters including friends, family and the community came out in celebration of Brianna Wellen's last day of chemo therapy. Whiskey's Rockton Inn was home to a super fun 'Electric Boogaloo Trivia Night on Saturday, Sept.26.
Competition heated up as teams challenged each other. Brianna Wellen who sported a purple wig was joined by her best friend, Erica Barrera as they energetically asked Trivia questions.
Six rounds were played with 10 questions asked in each. Subject matter covered movies, sports, music, general knowledge, David Meowie, (a combination of information about David Bowie and cats; two of Brianna's favorite things), pop culture, and a final grab bag round. After finishing rounds the top three teams were announced. The Burger Monsters emerged as the first place team.
Adding extra fun into the mix were unique silent auction items to bid on. Special purple beads were handed out; each with a cut out caricature photo of Brianna hanging at the bottom. The caricature and winner ribbons were done by Maddie Porter.
Twenty-five year old Brianna Wellen's story began after she noticed a lump on her neck which she at first dismissed as a swollen gland because of a sore throat or a muscle spasm. In November of 2014 she decided to see a Doctor about her lump. An ultra sound was done followed by a cat scan and a biopsy.
By April 6 of 2015 an oncologist at Weiss Hospital in Chicago diagnosed Brianna Wellen with Stage 3 Hodgkin's Lymphoma. In April she began receiving chemo therapy treatments at Northwestern Memorial Hospital in Chicago. Six cycles of treatments were given every other Friday which consisted of a full day of pumping drugs into her body. Wellen completed her treatments on Friday, Sept.25, the day before the fundraiser was held.
Wellen thanked everyone for coming out and all who helped organize the Electric Boogaloo Trivia Night. In return friends gave a loud round of applause and cheers for the journey that Brianna has been on, and how she has handled everything with grace and dignity.
Volunteer, Laura Porter helped with registration and team goodie bags. "Basically the credit for the event goes to Brianna. Her mindset on dealing with her cancer has led us all with such positivity," lauded Porter.
"It was so moving to see everyone celebrate with the same vivacious zest that Brianna has demonstrated from day one of her diagnosis. I was honored to be part of it all," Porter added.
"This event was one of the most fun nights of my life. I have so much love for everyone who was there and am honored to have them in my life,"Wellen said.
A combined total of over $2,000 was raised to help Wellen cover medical expenses, which have added up over time.
Future support may be shown through donations at gofundme.com/briannawellen.