Loves Park, German Society celebrate 51st anniversary of Oktoberfest
By Margaret Downing
Reporter
LOVES PARK – At the Sept. 28 Loves Park City Council meeting, Mayor Darryl Lindberg declared Oct. 2-3 as "Oktoberfest Days – 51st Anniversary."
Toni Beck, president of the German Society of Rockford was present, dressed in authentic German garb as he does every year.
Lindberg noted that Oktoberfest, held in the gymnasium at the city hall complex, "is always a very nice event."
A resolution was passed authorizing roof repairs to the street department building at a cost of $27,350, as was one okaying door replacements at the street and water department buildings for $12,540.
Mayor Lindberg gave thanks to Aldermen Greg Jury (First Ward), Rob Schlensker and Doug Allton (both representing the Third Ward) for volunteering to paint the "Loves Park – City with a Heart – Welcome" sign at the southern entrance to the city on Hwy. 251.
Lindberg noted that it was last painted in the spring of 2014, after which time it was grafittied on.
Alderman Jury stated, "It's been an eyesore coming into the city and our staff has been pretty busy, so Rob suggested we do it for the city and help to beautify our city a little bit. It needed to be done, and we felt it was time we did something about it!"
Alderman Clint Little gave the weekly police activity report for the week of Sept. 20-26. A total of 483 calls for service, 512 arrests, and 14 accidents were reported. On the weekly fire department report dated Sept. 27, one fire call, one public service call, one mutual aid call, and one carbon monoxide or gas leak call was reported.
Aldermen approved payment of $62,269.56 in water department bills and $91,278.21 in general fund and all other bills, as presented Sept. 21.
Alderman Greg Jury reported that the ending balance for the month of August in the treasurer's report was $5,437,7015.15.
Approval of a special permit was given to Bethany Presbyterian Church in the 5400 block of N. Second St. to hold a church event with live music on Oct. 24.
Mayor Lindberg advised the council that this year's leaf vacuuming schedule is posted at the city's website and on its Facebook page.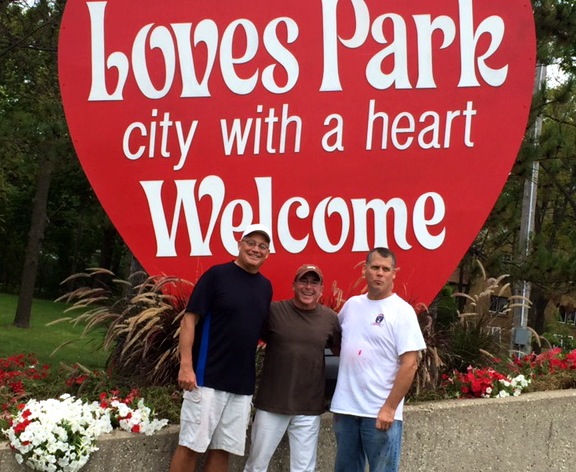 Courtesy photo
Shown Sept. 27 after putting their painting skills to work on the city's welcome sign are Loves Park City Council Aldermen – from left Greg Jury, Robert Schlensker, and Doug Allton.