Midwest Oktoberfest brewed up pure fun with unique twists
By Marianne Mueller
Reporter
ROCKTON – As bright sunshine created a beautiful fall day hundreds poured into Rockton's first Midwest Oktoberfest on Saturday, Oct. 10, where hours of fun rolled on with a few special twists. Midwest Oktoberfest marked its first year in Rockton.
Ryan Rydell, Brian Hansmeier and Ryan Asta teamed up to organize the event.
"We wanted to offer a unique style to the traditional German and bar-based festivals, said Rydell.
"After the success of the Hanz Brew Fest organizers wanted to keep momentum flowing.
"The idea for Midwest Octoberfest came shortly after we finished Hanz Brew Fest," said event organizer, Brian Hansmeier. "That was so much fun that we decided to team up again."
"We wanted to break away from the traditional German Oktoberfest by adding games that would entertain everyone," Hansmeier added.
Music surrounded Settler's Park courtesy of 95.3 The Bull. Tents lined sections of the park where 35 different breweries served over 100 varieties of beer.
Each person who purchased a ticket went home with a souvenir glass from a total of 15 tickets used for sampling. Food vendors offered a nice selection.
Those who wanted to up the bar a bit opted to take in the VIP treatment which included early access into the event, special reserve beers for VIP only, special service from the staff of Rookie's VIP lounge, and a limited edition VIP shirt, reading, "We like to drink cold beer in the Midwest shaped in the state of Illinois to display state pride."
"Embroid This" greeted the public. Members of the Rockton Lion's Club, friends, and family of the organizers, plus volunteers from the overall community helped to make the event run smoothly.
"The Village of Rockton was very easy to work with in approving the event to happen," said Hansmeier.
Spirits soared during fun and games in the form of beer pong, bags, hillbilly golf or Jumbo Jenga which proved to be a popular activity! Organizer, Ryan Rydell came up with the beer pong idea.
"It is a game that is almost exclusive for parties, and we felt that it was the perfect addition to the festival, and a ton of fun in the jumbo form," said Rydell.
Many who came out expressed a positive opinion of the event. "We had a fantastic time. The event was organized well and had a great assortment of beer and food options. We enjoyed playing bags and socializing with our friends! Afterwards we went up to Rookie's for dinner and to watch the Cubs win," said Brent Murray.
The Midwest Oktoberfest not only brought fun to the Stateline area but also extended a hand to help others in need.
"We gathered a car load of food and clothing for the Old Stone Church Food Pantry in Rockton," said Rydell. "The community as a whole stepped up in support."
Organizers were very satisfied with the event turnout. The weather was great too," said Hansmeier.
"It is nice to see so many people get behind us as we build events on the foundation of unique, safe, spirited, local community fun," Rydell lauded.
"We are looking forward to next year's Hanz Brew Fest and the next Midwest Oktober Fest," says Hansmeier.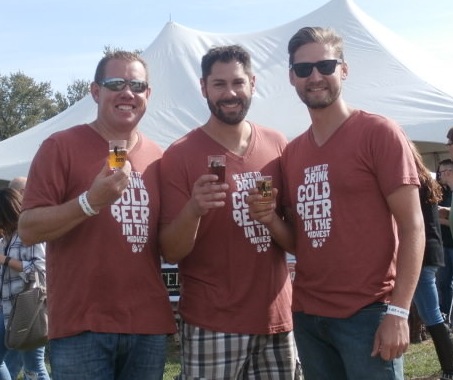 Marianne Mueller photo
Brian Hansmeier, Ryan Asta and Ryan Rydell were the organizers of the 2015 Midwest Oktoberfest last weekend in Rockton. See more photos inside.