My 4-H story: Electricity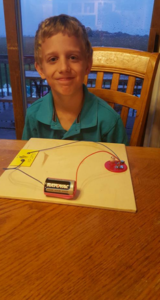 By Nathan Kolthoff
Guest Contributor
BOONE COUNTY – This is my first year in 4-H also my first year in electricity. I wanted to learn about electricity because I love learning about how things work. I also love to build things and watch them work. This year I took Electricity 101 and learned many things. I used my 4-H book and Electricity kit that I bought to do lots of projects.
This year the project I made to show was a simple switch to show. The reason it works is that the energy from the battery is going through the paperclip to the other wire and lighting up the light bulb. I showed my project and got a blue ribbon. I also took my project to my 4-H club and did a talk and demonstration on how a simple switch works.
Next year I want to learn how electricity goes through things. I also want to learn about how build more difficult things. This year I learned a lot and hope to learn more next year.