My 4-H Story: Getting started in 4-H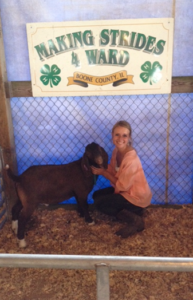 By Megan Clarida
Guest Contributor
BOONE COUNTY – Growing up, I was told that there wasn't a close enough 4-H club for me to attend. So with that being said, I continued on with admiring all the hard work and dedication that I saw 4-Hers put into their animals at fair time. Another problem with not having a club close to me was that I lived in the city! How was I supposed to show livestock and farm animals if I didn't live on a farm?
Well, in 2015 my view on 4-H changed.
I learned that not only could I be a member of a club 30 minutes away from me, I could also enter pieces of art work or even speeches in the fair. 4-H wasn't all just about showing animals! With that being said, 4-H has really inspired me to reach out to try new things in life including entering pictures in the fair, showing different types of animals and participating in Public Presentations.
Not only did I learn that 4-H wasn't just about animals, I also learned that being a 4-H member took strength and dedication towards something you, and many people around you loved as well. Seeing the look on so many people's faces when it came to fair timeas they all admired the various projects 4-Hers took time into making, really just put a smile on my face. Knowing that not only was my community and club a part of putting a smile on other citizens faces, but I was a part of that too.
4-H has really taught me to branch out, even if it's outside of my comfort zone. I knew that I loved writing and giving speeches, but when it came to public presentations, I honestly didn't know what to expect.
Nervous hands and a shaky start had me thinking the speech wasn't going to end well, but with the smiling faces of the judges and the encouraging looks of other fellow 4-Hers, I made a mental note that I can and will get through this speech. Four minutes and fifty-eight seconds later I was finally finished.
As I watched others give their speeches and demos I really thought to myself how lucky I was to be a part of a group that encouraged you no matter what the circumstance. As we all waited for awards, I never thought that I would hear the judges call my name and following that, a Blue Award and, a Purple State Ribbon.
My hard work had finally paid off. If it wasn't for 4-H members and leaders encouraging me to participate in Public Presentations I would have never been able to attend state (which was one of the most awarding experiences of my life) but I would have also never been able to say that I got the courage to go up there and do it.
Not only am I proud to say I am a 4-H member, my family is also proud to say that they too happily support 4-H. Even if I have only been able to be a part of 4-H for one year, that one year has taught me that keeping records of your animals feed and everyday things are important, filling out goal sheets are helpful when making and completing a project, attending clinics give you so much more information then you thought, and last but not least, 4-H has taught me how important my role in the community really is.
Wither it's for my kindness to others, my dedication to hard work, or my caring to make a difference in this small place that we call home. 4-H gives you the inside look to what it is really like to work for something to be proud of.