My 4-H story: My dairy story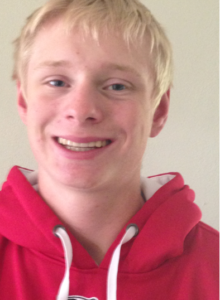 By Ray Hildebrandt
Guest Contributor
BOONE COUNTY – Showing dairy has taught me a lot of important values that I will carry throughout my life. The values consist of hard work, caring for animals, and responsibility. I consider myself fortunate for the ability to show cattle for my enjoyment.
I started showing dairy when I was eight years old. It was the first year I could show as a member of 4-H. My brothers had helped me pick out three animals. They were a spring heifer, a dairy steer calf, and a dairy steer. I did not know that much about showing, but I was eager to learn. I had lots of help as I started out.
That first year I learned how to do basic care needs for my animals. I learned how much they ate and how to wash them. I also helped to hold them while my brother clipped them. The next two years I took four animals both times. These animals were a spring calf, a winter calf, a steer calf, and dairy steer.
In my third year I started to understand just how important being a good showman was. I was taught how to set up my animal and I attended a fitting clinic. The next year I decided I wanted more responsibility and took a larger heifer calf.
That year I did all the toplines on our animals on show day. I had learned how to do them at another fitting clinic. I worked with the toplines in the weeks before the fair. I had bought our topline spray and brush myself.
I also had a breeding age heifer that I mated. I looked at everything my heifer needed to improve and matched that with a bull that was strong in those traits. I also wanted a bull that was high in milk weight.
The next year, my fourth, was when I really started to do it all myself. I had attended the "Badger Dairy Camp", which is a three day camp held by the University of Wisconsin that teaches you how to judge, clip, and provide care for dairy cows.
I took that knowledge and put it to use. I clipped all of my animals, my sister's animals, and one of my neighbor's wanted to show so I had to teach him everything I knew. This started with the basics of how to show a calf the right way and continued all the way through me teaching him how to judge.
I also did all the toplines and tried to make my heifers lose weight, if they needed, and make my steers gain weight by feeding them different rations. I started to understand all the science involved in the dairy industry.
After the fair I had to breed another heifer, this time I chose sexed semen to improve my chances of a heifer.
Another one of my heifers calved in that spring, but had difficulty so I helped pull the calf. I immediately gave the newborn calf, a bull, some 'First Defense' vaccine, to help prevent disease.
Then, I made sure it drank it's colostrum to build his immune system. My next two years I continued to do what I had been doing, but I had become better at fitting and showing my animals. I also took large, yearling calves instead of young heifers.
My seventh year was one of a few firsts. It was my first time buying an animal. I bought a December yearling calf for $1300. It was also my first year showing a registered, which was that December calf. And finally it was my first year showing a cow.
I had to make sure I milked her out so that her udder would be full by show time. I had to trim her udder and be careful not to hit her milk vein. I also had to help my neighbor show some of my heifers again. This time he took two instead of one.
I had enjoyed taking one cow so the next year I increased the number to two cows, along with a heifer and my steer calf and steer. That spring my yearling I had bought had a heifer calf. That is when I learned the registration process and how to fill out all the necessary paperwork.
Since one cow was registered and the other was grade I had to milk them at different times to be ready at show time. It was a lot to keep up with so I always had to be around the dairy barn.
The next year I decided to only take one cow, a heifer, and two steers. I continued to choose bulls I wanted my heifers, and now cows, bred to. I tried to incorporate the polled gene into my cattle, to save them from being dehorned. This year I took a cow and two steers.
However, I did not become any less busy because my younger cousin joined 4-H. I had to break her animal, show her how to walk and wash it, do its top line and fitting.
I also had another neighbor that took a steer calf. She is in my club so I helped get her animal ready on show day. On top of that I had to get my own animals ready. Next year I hope to take at least two cows and maybe a heifer, along with a steer.
My involvement in dairy stretches outside of showing. I have competed in judging contests. I have participated in fitting clinics, gone to many sales, joined the Livestock Ambassador Team and completed the aforementioned "Badger Dairy Camp."
Our family is also very involved in the Boone County Dairy Breakfast. In addition, I work on my family farm, milking, feeding calves and doing field work. I have been interviewed by several newspapers promoting dairy and agriculture in general. My involvement carries on to school.
Last year for FFA, I brought a calf to our middle school to talk about dairy.
It is safe to say that the dairy industry has had a major impact on me. I started with little knowledge of how to show a calf, but every year I learned something new.
Dairy continues to impact me as I get older. I am planning on attending college next year with a major involved with dairy. I am so fond of all the memories this industry has given me, and look forward to my future memories working with dairy cattle.