My 4-H Story: my first year in 4-H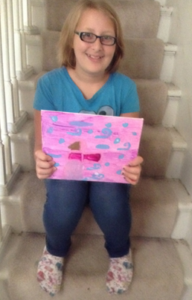 By Bella Wandtke
Guest Contributor
BOONE COUNTY – This was my first year in 4-H, but I already really like it! I joined 4-H for the art. I wasn't going to join, but my mom told me that there was a lot more to 4-H than just showing animals. Boy, was she right!
Almost right away, I was co-chair for the Community Services Committee. It was a lot of fun to think about who might need our help, and how we could help them. I think I came up with a fifth of what we did this year, and I feel super happy about that, because I was still a really new member. I felt like I fit in straight away.
At the first meeting, I needed a little guidance, but after the second meeting, I felt like I was already part of the club!
I was just as sad as everybody else when we had to move our meeting place, and I was already in a committee!
I helped pot plants for people at a nursing home who couldn't do it themselves, participated in 4-H projects, and showed my projects at General Projects Day!
I also had a lot of fun at the fair! Helping at the food stand was probably my favorite, even though it was pretty tiring! The Wee Farm was super cool, because I got to be really close to the animals, and we got some potted plants as a sort of thank you! An added plus was that my mom bought me a pass to the fair, so I could go there whenever I wanted to!
All throughout the year, I also helped out at the Cloverbud meetings. It's a lot of fun, and I've had a few people recognize me outside of the meetings! It was so cute when a little boy who was going to be going on to 4-H said, "Hey! You helped out at my old Cloverbud meetings, right?"
As I'm heading into a new year, I'm super excited! I've applied for the job of secretary, and I'll be helping out with the Cloverbuds again!