North Boone High School makes strides in peer acceptance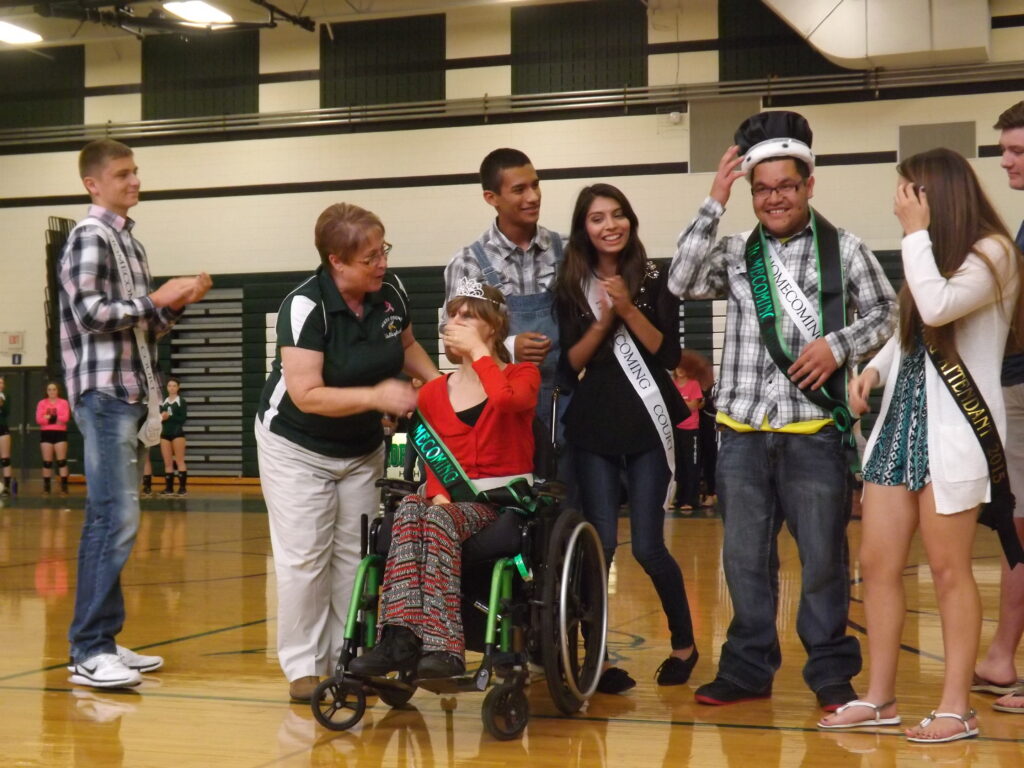 By Kathryn Menue
Editor
POPLAR GROVE – On Wednesday, Sept. 30, the students of North Boone High School crowded into the gym at 2:30 p.m. for the Homecoming assembly. The proceedings seemed to start like any other pep assembly as the band and cheerleaders pumped up the crowd with the North Boone Vikings fight song. However, what the students didn't know was that they were going to make North Boone history in a matter of minutes.
A hush fell over the crowd as the homecoming court and attendants were announced with occasional cheers interrupting the silence as the names were read off and each court member and attendant stepped out onto the gym floor.
Then, the moment the student body had been waiting for arrived: the crowning of the homecoming king and queen.
"Rene Cruz and Alexa Baker!"
The crowd erupted in applause and jumped to their feet in support of the two special needs students who just won the senior class vote of homecoming king and queen.
Seniors Rene, 21, and Alexa (Allie), 21, were surprised and nearly speechless. Rene could only manage to say that he was excited and "happy I'm homecoming king."
Rene and Allie weren't the only ones who were happy. Allie's mom, Robin Baker, could hardly contain her emotion as her daughter was crowned homecoming queen.
"I learned that [Allie and Rene were nominated] last week," Robin said. "I was beside myself; I was so excited."
Robin said she had learned they won on Wednesday morning and was invited to the crowning event. She said she cried with excitement for her daughter and for Rene.
"I was floored they cared enough to make her queen," Robin said. "It's beyond my wildest dreams. I'm just so appreciative."
This special day was all made possible due to the creation of the special education program at North Boone High School five years ago.
Melissa Ford, special education teacher, and Donna Sremaniak, special education paraprofessional, helped bring the program to North Boone. They wanted to bring kids with special needs back to their "home," since before the program was initiated, students with special needs had to travel to other districts to receive an education.
Ford and Sremaniak created the special needs/life skills program where students with special needs could "learn basic skills to get them ready for jobs," Ford said.
Since they have transferred to North Boone, special needs students, like Rene and Allie, have made huge progress.
Sremaniak said that Allie has improved "leaps and bounds." Since middle school, Allie has developed her speech from incoherent, random words to complete sentences and "Rene has blossomed so much," Sremaniak said.
Allie's mother said that they moved back up here four years ago from Orlando, Fla. and that the programs they had down there weren't as good at North Boone's special needs program. Robin also said that because of the North Boone program, Allie has become very "active" in school and has attended all of the dances.
"She's [Allie's] made huge strides here…this program is not the norm, it's exceptional," Robin said.
Rene and Allie have grown close through the program.
"Alexa (Allie) is always asking, 'Where's Rene? Where's Ne-ne?'"
The students have also grown through the PIT (Peer Intervention Team) program that Ford created. The PIT program is made up of average students who go into the special education classroom to engage with their fellow students.
Ford said the PIT program advocates "peer acceptance so everyone can be together."
The student body has embraced this program wholeheartedly.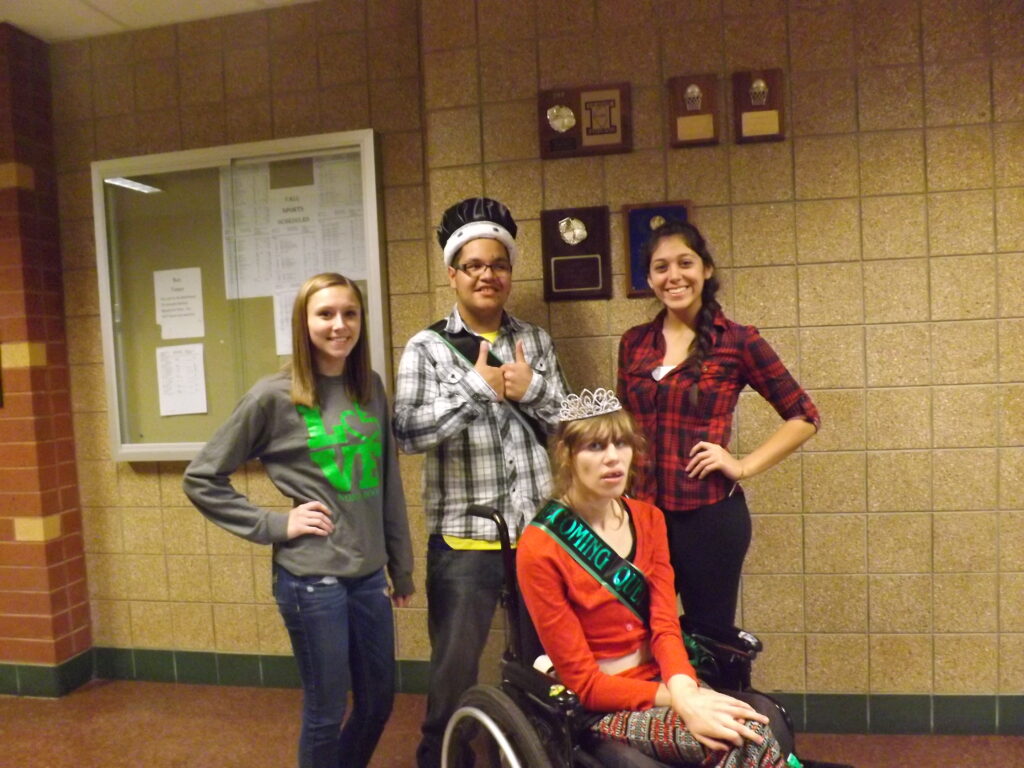 Hannah Blasinski, the president of PIT, said that they do a lot with the students in the special education program.
"We usually, at least once a week in the mornings, we play board games, or play in the gym, or go on fieldtrips," like "bowling, we went to a play, we go Christmas shopping with them and the elementary special Ed classes; we went to a baseball game; stuff like that," Blasinski said.
Vanessa Tellez, vice president of PIT, agreed that PIT is there to support their fellow students with special needs.
"We play with them to brighten their day," Tellez said.
This comradery is what helps the life skills program flourish at North Boone.
"I just cannot say enough good praise about the program," Robin Baker said. "The school, the community, has embraced her [Allie]…I think that's what's unique, as well, is the program is only four years old, so students haven't grown up with it, yet they have embraced our kids."
Blasinski agreed that the PIT program is a great way to bring North Boone together.
"I just love the fact that we can bring awareness about disabilities and that it's not something to look down on," Blasinski said.
The student body obviously agreed that awareness and acceptance are an important aspect at North Boone High School, and the best way to show it is to support their fellow students with special needs by electing Rene Cruz and Alexa Baker as the 2015 homecoming king and queen.
Special education teacher, Melissa Ford, was so proud of the senior class for electing Rene and Allie stating that she was touched "that the whole senior class gave up themselves to give up king and queen to Ally and Rene."
Allie's mother, Robin, was moved as well stating that the North Boone community has opened their hearts to Allie and the rest of the special needs students.
"I just want her [Allie] to know she is loved" and that "she is my hero."