Sons of the American Revolution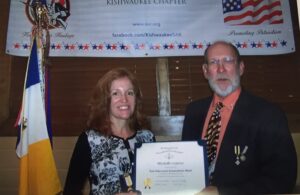 BOONE COUNTY – The Kishwaukee chapter of the S.A.R. recently presented Boone County State's Attorney, Michelle Courier, with their law enforcement commendation medal. This award is a recognition that a chapter can present to an individual who has served with distinction and devotion in the field of law enforcement.
Michelle was asked to be the program speaker for out October meeting. Following her presentation was a surprise for her to be presented with the award.
Chapter members felt the recognition was well deserved. She supervises seven other assistant states attorneys, and they have four clerical people in the office.
Now in her second term of office, it is her desire to serve them a third term.