Vintage lovers alert! Nellie's Barn Sale Extravaganza is coming to town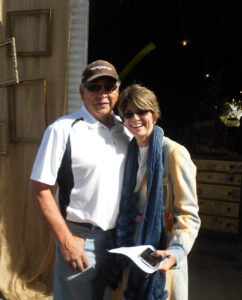 By Jean Seegers
Reporter
ROSCOE – The vintage craze continues to grow all over the Midwest. The trend of re-purposing almost any kind of found object has resulted in over-the-top popularity for vintage items.
Roscoe got in on the action last October with "Nellie's Vintage Extravaganza." Thousands of vintage-lovers came to town for the shopping event, Oct 10-11. The event was held on two acres of lawn behind Meyer's Canine Colony, 10985 Main St. in Roscoe.
Over 50 vendors showed their wares as shoppers strolled through the grounds looking for the hottest trends in vintage finds and repurposed goods. The show was a resounding success.
Owner and show organizer Ann Campos announced recently that "Nellie" is coming back. The vintage show is scheduled for Oct. 9 and 10, from10 a.m. to 4 p.m. both days. This year's shopping scene will include 55+ vendors selling a variety of vintage good at the same location behind Meyer's Canine Colony. The outdoor event will feature a variety of vintage décor, painted furniture, repurposed items and hand-made jewelry and clothing.
Celebrating her 12th anniversary, Campos said this year's show will be their biggest ever.
"This is not your Grandmother's antiques," she said. "Today's vintage serves up an eclectic look for homes, cottages and urban lifestyles. Young and old alike are taking pieces such as old cameras, galvanized funnels and vintage pickup truck hoods and turning them into one-of-a-kind décor for their homes, cottages and urban lifestyles."
"Our sellers are some of the same vendors you'll find at the Kane County Flea Market, Three French Hens Market, Elkhorn Flea Market and The Pec Thing," she said.
Along those lines, Campos reports that the national craze of planning a prairie-style wedding, and the newest fad of building out a "she shed" – the woman's version of a man cave, has caused a surge of popularity of vintage items.
The show will also feature live music from area musicians both days, including the rock and pop sounds of Kip Kapfer; urban folk music – Thinking Aloud; acoustic guitar from Tommy Sisk; the Lone Canary; a Folk/Americana duo comprised of Jesse Fox and Heather Camacho; and alternative pop singer Hannah Lewandowski.
"I love giving them a unique spot to play to a live audience," Campos said. Savory food and hot beverages will also be available.
While in town, shoppers can also shop dozens of stores, small shops and great restaurants in the surrounding area.
Campos said the 55 + vendors are all small business owners.
"They will be peddling wares that are among the hottest looks in today's vintage décor: chippy, shabby, romantic farm and cottage styles.
Shoppers will also find painted furniture; one-of-a kind jewelry and accessories with a vintage touch; retro and Mid-Century items; funky and unique seasonal décor, vintage textiles and books.
Look for "Glamper" and "she shed" goods; architectural salvage, bohemian and rockabilly clothing: hand-made pieces and fun junk."
Cost to attend is $3. A portion of the proceeds will go to the local Roscoe Boy Scout Troop.
"My shoppers have been very supportive the last 11 years. I want to give back to my community," Campos said.
"We are expecting over 3,000 people this year, including a busload of ladies from Madison,"
There are no early sales, but lines form early. Vendors will be re-stocking for Saturday.
"No matter when you can get here, you'll find great vintage items."