Boone County Council on Arts hosts Fifth Grade Art Festival
By Kathryn Menue
Editor
BELVIDERE – On Tuesday, Oct. 20 through Thursday, Oct. 22, the Boone County Arts Council presented the Fifth Grade Arts Festival to the local fifth grade elementary school students in Boone County.
On Tuesday, Perry, Meehan, Immanuel, and St. James Catholic schools attended the festival. On Wednesday, Caledonia and Washington Academy experienced the Fifth Grade Art Festival, and on Thursday, Lincoln and Seth Whitman Elementary Schools finished out the art festival.
The Fifth Grade Art Festival was held at the Community Building Complex of Boone County, located at 111 W. First St. in Belvidere.
"We are so lucky to have the Community Building as a venue," Boone County Arts Council President Sherry Lindquist said. "It has so many spaces [for the kids to work in]."
The arts festival, held each year, highlights various art forms that aren't usually taught in schools.
"What we try to do is expose students to areas in the arts they wouldn't normally be exposed to," Lindquist said.
In years past, the various art forms ranged from students meeting with muralists, cartoonists and graffiti artists, to dancers, the Rockford Symphony Orchestra, and recycled faux stained glass art made from Dean's jugs.
This year, the arts council decided to focus on the art form of puppetry. To focus on puppetry, the council designed a series of class periods where the fifth graders would learn about different aspects of puppetry along with other art forms.
Each day, the art festival began with an interactive folk music performance from Mark Dvorak, a faculty member from Chicago's Old Town School of Music. He presented a session on "Old Songs and New People," which "actively involves listeners in song, narrative, and hands on demonstration."
From there, students split into gr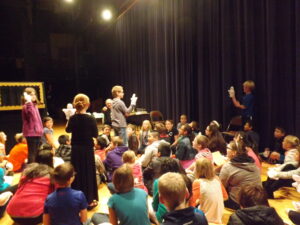 oups to experience the dynamic variations in art.
One of the featured sessions, taught by Gary Tate, "a retired teacher who worked in children's theater," showed students the art of puppetry.
Tate's class, entitled "You Can Be a Puppeteer," demonstrated the different hand motions students could make to animate their puppets.
Another session included students making their own puppets in a class entitled "Junk Art." In this class, students constructed puppets out of lunch bags, construction paper, yarn, cotton balls, markers, and glitter. Norm Knotts, "a nationally recognized recycling artist and teacher," taught this session.
After constructing their puppets, students could move on to story writing where Connie Kuntz, an editor for the Rockford Review and RWG Press, and Meghan Baylor, a teaching artist who currently works as an instructor and outreach coordinator for Rockford Dance Company, presented Playette Writing. In their class, students learned about playwriting
for Puppet Theater, where the students split into groups, wrote a skit, and performed it for their peers.
The other art form demonstrated at the art festival was pottery. Kit Schneidenhelm, a retired teacher and local artist, and Dee Santorini, a pottery teacher, demonstrated how to make both hand-built and wheel-thrown clay pottery. Santorini also shared various firing and decorating techniques.
After all of the morning class sessions, students gathered in the Community Building basement to enjoy lunch and a performance from the Belvidere High School band led by Director Dan Foster. The percussion ensemble displayed a different perspective on music by performing on alternative pieces such as trash cans.
The Fifth Grade Art Festival was made possible from "a grant from the Funderburg Foundation through the District 100 Foundation for Excellence in Education; a grant from the Rockford Area Arts Council; and Richard and Kathie Curlee: Arts Education is Essential."
The festival was also ma
de possible through donations from the Belvidere Woman's Club, Gregory Franchini, the Cosmopolitan Club, Thomas Furst, Bill and Paddy Grady, Valerie and Owan Graham, Franklin Display Group, Gerald and Adrian Grubb, Barb and Ken Hall, the I.O.U. Club, Locust Street Press, Seth Whitman P.T.O., Tom and Karen Shifo, Jim and Jean Twyning, David and Rosalie Whitehouse, Lorene Benzel, Bill and Donna Denning, and Perry P.T.O.
The Fifth Grade Arts Festival couldn't have been complete without the wonderful volunteers who donated their time to help the fifth graders take in the interesting experience of alternative art.
These volunteers include: Lauren Hart, Sally Jones, Maria Werchowec-Hernandez, Donna Denning, Bonnie Bartell, Jean Twyning, Karen Shifo, Sherry Lindquist, John McMorrow, Pam McDonald, Val Graham, Marcia Cook, Robyn Riccardo, Rosalie Whitehouse, and Lorene Benzel.