Rosemary Sepich, 91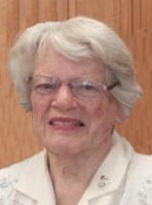 LA CROSSE, Wis. – Rosemary Sepich, 91, formerly of Pecatonica and Belvidere, Ill., passed away at 1:47 p.m., on Saturday, Oct. 24, at Bethany St. Joseph Care Center in La Crosse, Wis.
She was born on May 31, 1924, in Sibley Ill., the daughter of William and Rose Hogan Fagenbush. She married John Frank Sepich on Oct. 14, 1950, in Rockford, Ill. He preceded her in death.
Surviving are her children: Michael Kerry (Marilyn) Sepich, Universal City, Texas; Susan Dee (David) Baldridge, St. Charles, Mo.; Christopher John (Karen) Sepich, Trempealeau, Wis.; Jerome Patrick (Jean) Sepich, Strongsville, Ohio; and daughter in law: Kim Sepich, Chatham, Ill.
Also surviving are nine grandchildren: Heidi Marie Lyons, Sarah Elizabeth (Jeremy) Polley, Beth Christine (Christopher) Beeman, Danielle Therese Nagel, Mark David Baldridge, Craig Norman Sepich, Abigail Lynn Sepich, Annabelle Jean Sepich, and Jarrett Francis Sepich; seven great-grandchildren: Jade Marie Houchin, Maddison Brooke Houchin, Denver Tate Houchin, Mark Christopher Beeman, Ethan James Beeman, Peyton Marie Nagel, and Mason David Beeman.
She was preceded in death by four children: Merrie, Melodie, Mark Francis and Timothy James (Kim) Sepich; one grandchild: Crystal Marie Houchin; and her five siblings: Clara Catherine Fagenbush, George Fagenbush, Forest Fagenbush, Charles Leroy Fagenbush and Marie Schoonover.
Rosemary graduated from Malta High School (Malta, IL) and St. Anthony School of Nursing in Rockford, Ill. She retired from Winnebago County Public Health.
She was a devoted member of St. Mary Catholic Church in Pecatonica, Ill. Rosemary was an avid walker, putting on many miles and endless prayers at the Belvidere Park. She enjoyed cardinals, rainbows and the Chicago Bears. However, she found her greatest joy spending time with her beloved family.
Funeral mass was held at 11 a.m. on Thursday, Oct. 29 at St. Mary Catholic Church, located at 126 W. Fifth Street in Pecatonica, Ill. with Msgr. Robert Sweeney officiating.
Visitation was held from 10 a.m. until the time of service at McCorkle Funeral Home-Pecatonica Chapel, 203 W Fifth Street in Pecatonica, Ill. with final resting place to be St. Mary Catholic Cemetery.
Memorials may be directed to St. Mary's Catholic Church in Pecatonica, Ill.
Friends of her family may sign the guest book at www.­­­­­­­­­­­­­­­­­­mccorklefuneralhome.com.