Competition cheer team performs championship encore routine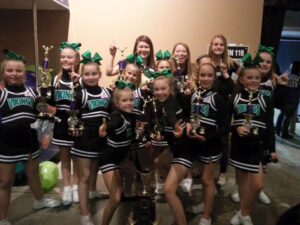 By C. L. Smith
Reporter
POPLAR GROVE – The fifth grade cheer team showcased their championship spirit Tuesday night, Dec. 15, during halftime of North Boone's JV boys' home basketball game.
The girls performed an encore routine that won them first place at this year's Illinois Recreational Cheerleading Association (IRCA) championship at the Sears Center on Dec. 6. It was the first championship for the fifth grade North Boone Cheer Group.
The routine was performed to a remix of the Ed Sheeran hit, "Thinking Out Loud."
The song's accelerated tempo matched the high energy choreography of the squad as their explosive tumbling skills. The momentum and enthusiasm they emitted as they flew across the mats in perfect synchronization reverberated into the stands.
The performance lasted approximately two minutes, but that was more than enough time to showcase the acrobatic abilities of this young cheer team.
The crowd was electric when they showed their support for their hometown champions. Every jump, flip, and toss was met with thunderous applause and cheers. On the night of Dec. 15, these young ladies were the pride of Poplar Grove.
The road to the championship wasn't an easy one, though.
In the previous three years, the team won qualifying bids, but came up short when they placed in the top three each time.
Coach Kim Crull, who has worked with most of the girls before, said that the difference this year came from the girls connecting better with one another.
"I think it's just working and gelling together on another level," Coach Crull said. He said that the win also came from an increased sense of trust and comfortability with one another.
The shift in dynamics paid off as the North Boone Youth Cheer Group brought home their first Region Five title.The excitement and joy of winning was still present with the girls, two weeks removed from the championship.
As the girls exited the gymnasium after their performance, they took turns carrying their hard-earned trophy, while they skipped and yelled through the halls of the school on their way to the bus.
Coaches Crull and Krystal Jole, along with the eleven girls that make up the fifth grade North Boone Youth Cheer team, will continue to celebrate their hard work and victory in the upcoming weeks.
However, with any championship mindset, they will undoubtedly be thinking ahead and preparing to defend their title at the 2016 IRCA competition.