Entrepreneurial Incubator Program at HHS going strong
By Jean Seegers
Reporter
ROCKTON – There is a quote on the wall in Jason Brunke's classroom at Hononegah High School that reads "The Best Way to Predict the Future is to Create It." The quote is attributed to Peter Drucker, American management consultant, educator and author. Students in the Entrepreneurial Incubator program are a testament to that philosophy.
Brunke is the Career and Technical Coordinator of the nation-wide program that is in its second year. Last year there were eight schools throughout the country, including Hononegah. There are now 32 schools offering the program.
The first year, six Hononegah students took the class. This year eight seniors and one junior are on board, with an even split of boys and girls. According to Brunke, who is the program's facilitator, the goal is to create entrepreneurial-minded students through teamwork and collaboration.
"There is incredible community support for the program in the Hononegah School District," Brunke said. "Financial, marketing, branding and business professionals from throughout the area volunteer their time and expertise as coaches, and mentors."
Brunke said some coaches visit the classroom to offer advice and share marketing ideas two and three times a week. They meet with groups of 3 to 4 students.
"The questions the students ask show so much insight and commitment," Brunke said. "The Incubator program is a huge learning experience for them."
Mentors meet with students on a monthly basis.
"Mentors actually make themselves available to give advice and answer questions anytime," Brunke said. Most of the budding businesses involve building apps. One group is exploring developing a food delivery app that will potentially be similar to Uber: another group is working on website for customized sandals: another is developing a tutoring program: another is building a tech support for customers having internet problems and another is working out issues in creating a web service program to help people buy used cars.
The focus of the program is on creating a brand, initiating plans for distributing their ideas, customer relationships, introductions to properly sizing their market and creating Internet Marketing Strategies.
Omar Salters is the lone junior in the class. Brunke said Salters came to him last year for advice in publishing a book he had written.
"He couldn't find a publishing company that would look at teen authors."
"An important part of the program is for the kids to approach customers and discuss their business ideas. They have to develop a product that people want. All of the students have visited and interviewed business people numerous times," Brunke said.
At the end of the school term, each group will present their completed business model to the coaches, mentors and classmates. They will also have the option to introduce their business model at the school's open house and Student Career Fair, April 21, 2016.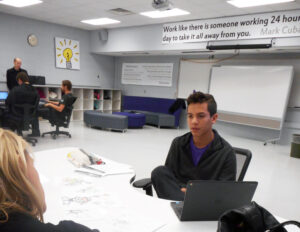 Jean  Seegers photos
Omar Salters is the only third year student in the Entrepreneur Incubator Program at Hononegah High School. Eight senior students and Salters are learning how to market, brand, and sell businesses they are creating through an innovative program involving area business coaches and mentoring. Salters wants to create a publishing company that works with teen authors.  He came up with the idea after he was unable to find a company that would publish book that he wrote last year.