Local wins $10,000 in Golden Ticket contest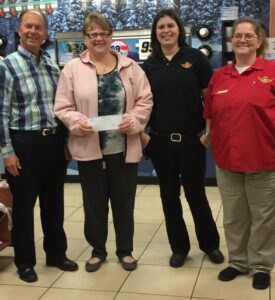 By Kathryn Menue
Editor
BELVIDERE – On Monday, Dec. 14 at 5:30 p.m., one lucky woman received an early Christmas present at the Road Ranger, #5206, in Belvidere, located at 2001 N. State St.
The lucky lady was none other than Belvidere's own, Debbi Bloomingdale, who was about "ready to pass out" as she was awarded a check for $10,000.
Bloomingdale won the $10,000 through the Golden Ticket contest created by GPM Investments, LLC who are the newest owners of the Road Ranger franchise.
The contest began in March and ended in October of this year.
To win the contest, Road Ranger, Village Pantry, and Next Door Stores customers in GPM's Midwest Division had to buy Golden Ticket items from the stores, which included items such as candy bars, bakery items, fountain drinks, and even gas.
When customers purchased these items, they received a code on their receipt, which they could enter on the contest's website for a chance to win the $10,000. By completing this process, Bloomingdale became the lucky Golden Ticket winner.
GPM contacted her by email on Monday, Nov. 16 with the news.
"At first, I thought it was a prank," Bloomingdale said. Then, she went through the website and found that she was indeed the big winner.
"It's still not real," Bloomingdale said in excited disbelief of her luck.
With a great shock to both her and her husband, Bloomingdale completed the paperwork and tax forms to claim the money with a little help from Belvidere Road Ranger Manager Sonya Bragg.
According to GPM Investments Regional Manager Jeff Harris, GPM started this contest to show appreciation toward their "loyal customers."
"GPM bought Road Ranger convenience stores and something we wanted to do was give back to the customers," Harris said.
Bill Reilly, GPM Vice President of Marketing, affirmed this ideal of rewarding customer support.
"At GPM, we are always looking for ways to add value to the customer experience at our stores. We feel a $10,000 Grand Prize is a great way to give back to our customers, especially as we enter the holiday season." Reilly said.
"Customers can continue to see these types of promotions, games and giveaways when they visit us. It is our top priority to offer superior products, convenient service and to do our best to improve the quality of each customer's day!"
On the night of Monday, Dec. 14, Harris proudly represented GPM as he awarded the check to Bloomingdale.
"We want to thank you [Bloomingdale] for being a customer of ours," Harris said as he handed Bloomingdale the check. "Have fun with the money."
After the check presentation with Bloomingdale, Harris, Bragg, and Road Ranger District Manager Brandie Bombard, Bloomingdale exchanged hugs with all of them in thanks for the generous prize they'd given her.
"We're just glad it was someone local who won," Bombard said.
Bloomingdale was glad too since she said the winnings came at the perfect time.
Upon hearing that she'd won, Bloomingdale said, "I'm so excited…You don't know how much this will help my family!"
Bloomingdale said that some of the money will be helpful for her daughter who will start college next year.
About GPM and GPM stores
Road Ranger, Village Pantry and Next Door Stores are all a part of the GPM Investments, LLC family of companies.
GPM is one of the largest privately-owned companies in the convenience store channel of business. GPM expanded into the Midwest this year when it began operating 131 Village Pantry, 42 Road Ranger and 30 Next Door Stores.
GPM now operates or supplies over 750 stores in a total of 16 states. GPM operates under other highly recognizable brand names including: Fas Mart®, Shore Stop®, Scotchman Stores®, Young's, Li'l Cricket and BreadBox.
These convenience stores have a wide array of food offerings, a house blend of coffee, fountain and packaged beverages, a large selection of groceries, tobacco, alcohol, personal care products and much, much more.