The Christmas season begins with the annual holiday parade, party in Roscoe
By Jean Seegers
Reporter
ROSCOE – Roscoe's annual Christmas parade and party at Village Hall got underway Saturday evening, Nov. 28. The colorful parade down Main Street featured several floats, scout troops and, of course, Santa and his reindeer. Santa rode in his sleigh, pulled by Harlem-Roscoe Firemen dressed as reindeer.
The parade culminated at the corner of Bridge and Main Streets where the lights of dozens of Christmas trees glowed. Village President Dave Krienke turned on the lights in front of the Christmas display declaring the beginning of the holiday season.
Then it was on to Village Hall where children and adults were greeted by a team of elves from Kids Spot.
Games, cookies and cocoa, and a visit with Santa, complete with the opportunity to have a picture taken with the jolly old man were all part of the evening's entertainment.
Krienke said all of the prizes, food and decorations were donated by about 15 businesses in the community.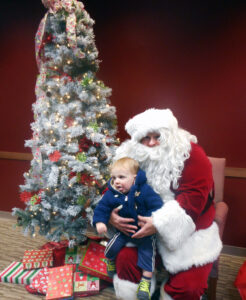 Roscoe celebrates holiday season
Eli gets his first up-close look at Santa Claus during the Roscoe Christmas celebration, Nov.28.  Among the attractions was the opportunity to have pictures taken with Santa.