Hononegah High School athletic dome collapses
By Jean Seegers
Reporter
ROCKTON – It's been 13 years since Hononegah High School's iconic "marshmallow" was erected. The 59,400 square foot air-filled domed field-house has been home to hundreds of special events, physical education classes, athletic games and tournaments.
All that changed Tuesday evening, Dec. 29.  Over a three and a half to five hour time-span, the dome slowly deflated and fell to the ground.
Heavy snow and sleet may have contributed to the dome's deflation, Hononegah School District President Dave Kurlinkus said.
"The cause of the collapse has not yet been determined. The dome is designed so that rain, snow and sleet will slide off."
He emphasized that the structure did not fall spontaneously.
Professional engineers from Air Structures American Technologies Inc.  (ASATI) and insurance adjusters are assessing the damage. According to Kurlinkus, there are security cameras on at all times in the dome.
"There is no evidence that it was a mechanical problem," he said. "The blowers are fine."
He speculated that a tear or hole in the Teflon surface could have caused the collapse. He emphasized that the structure deflated gradually and would not have been a danger had there been anyone inside.
Superintendent Lynn Gibson said building administrators are working on a plan to ensure all students in physical education classes and team sports will be accommodated.
Kurlinkus said they are hopeful that students will be able to stay on campus while work is being done on the dome.
"We have had a lot of offers from area schools. People have been really nice in helping us get through this."
Ro-Ro Expo, a major event held at the Hononegah Dome is scheduled for March of this year. The annual show is sponsored by Stateline Chamber of Commerce. "At this point, we are weighing our options," Chamber Vice President Ryan Rydell said.
According to Assistant Superintendent Kim Seudbeck, future plans will depend on what the insurance adjustors and professionals at ASATI have to say.
"Our options are to repair it, replace the dome entirely or build a brick and mortar structure. It all depends on what they find."
"We should have more information when the board meets Wednesday, Jan 20." Kurlinkus said.
Superintendent Gibson can be reached by email:  lgibso@hononegah.org, or by phone: (815) 624-5062.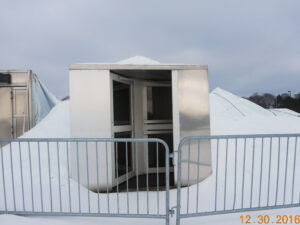 Jean Seegers photos
A door where the Hononegah High School inflated dome once stood looked like a door to nowhere following the collapse of the iconic structure, Dec. 29.