Bernita H. Shelden, 90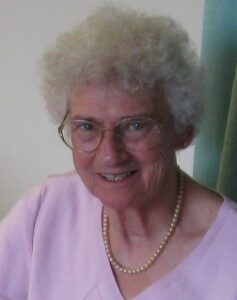 BATTLE CREEK, Mich. – Bernita H. Shelden, 90, of Battle Creek, Mich., formerly of Cherry Valley, Ill., went to be with her Lord on Wednesday evening, Feb. 3.
She was born on Oct. 19, 1925 in Belvidere, Ill., as the eldest daughter of Clyde and Esther (Baker) Brown. She met Richard Shelden at the roller skating rink in Belvidere and they were married on Nov. 1, 1946, settling in Cherry Valley to raise their family.
Bernita was a gracious lady, dear friend and devoted Christian. She was a founding member of the Willing Workers Circle of the Cherry Valley UMC.
After moving outside of Cherry Valley, she became a faithful member of Our Masters United Methodist Church, Rockford, Ill.
She worked in the office of a Belvidere insurance company, Cherry Valley Grade School and Knox Motor Service in Rockford.
Bernita is loved and missed by her children, Richard (Margaret) Shelden of Denver, Colo., and Patricia (Dale) Muyskens of Athens, Mich.; grandchildren, Ian (Neha) Caiozzi and Marcelo Caiozzi, great-grandchildren Nisha and Cailea Caiozzi of Denver, Colo.
She is preceded in death by her husband, parents, brother, John Brown, sisters, Esther Stensrud, and Audrey Murley.
Visitation will be held at Our Master's Center, Christ UMC, 5973 Darlene Drive, Rockford, Ill., 61109, off South Mulford Road in Rockford, Ill. on Thursday, Feb. 11 from 4 p.m. to 6 p.m.
Funeral service will be held at Our Master's Center at 11a.m. on Friday, Feb. 12. Luncheon will follow the service. Burial in Belvidere Cemetery.
Memorials to Christ UMC. To light a candle or share a condolence, please visit www.andersonfcs.com.