Hononegah's Les Miserables leaves powerhouse impression on audience
By Marianne Mueller
Reporter
ROCKTON – Seconds after the curtain opened on the cast and crew of Hononegah High School's production of Les Miserbales commanded full audience attention. Complex storylines, beautiful music, and classy dance numbers touched the soul as the deep meaningful story unfolded.
Under the direction of Amy Jensen an ultra-talented cast and crew made words written by Victor Hugo jump right off the pages. Les Miserables was first published in 1862. The story begins in 1815 cultivating in 1832; a period of time that the June Rebellion was happening in Paris and was inspired by the character of Jean Valjean.
Connor Young displayed a full range of emotions as Jean Valjean who was an ex-convict released from 19 years of unjust imprisonment. From his very first step onto the stage eyes were glued to Young's Jean Valjean who identified himself as number 24601 entering with the Chain Gang of Toulon.
The story takes audiences on his journey and path of redemption. His interactions with all of the characters; especially risking his life to save others were compelling.
The always brilliant Jack Hradecky was outstanding as the evil, but vulnerable Javert. In Each scene he was featured in Hradecky owned the stage.
This was evident as he was singing, "Stars and "Javert's Lament."
Lydia Krienke gave a heart wrenching performance as Fantine, a woman who turns to prostitution in desperation to save her daughter's life. In the process Fantine becomes ill and assures that Cosette is taken care of by enlisting Jean Valjean's help giving him a chance to begin his redemption by adopting Cosette. Krienke's smooth, perfectly sung "I Dreamed a Dream" moved everyone to tears.
Hannah Ahrens (Eponine) hit all the right notes of chemistry with her one- sided onstage love interest, Marius played by the amazing Cross Nelson. The realization of a love that never happened led to Eponine singing strong lyrics of, "On My Own."
Marius's true love was Cosette (Haley Fritts) who brilliantly portrayed her dedication to her father – Jean Valjean and her true love for Marius. "In My Life" and "Heart full of Love "clearly depicted the couple's   feelings toward each other.
The outstanding comic prowess of Tim Schultz and Brittney Legowski hit the stage as the Thenardier's. The humorus "Master of the House" rocked the stage. Both Schultz and Legowski shined as the fun, sometimes wicked and dastardly pair.
Whitman Post Elementary third grader Elizabeth Kramper set up little Cossette's life story perfectly while leading in the singing of, "Castle on a Cloud."
In a highly memorable turn Casey Bohn, fifth grader at Whitman Post stepped into the role of Gavroche who was little, mighty and brave.  Fifth grader at Kinnikinnick School Jenny Beck memorably portrayed little Eponine.
Tragedy strikes after two attacks break out killing Marius' friends. Survivors were left to carry on in their grief. Most striking was the believability of Marius stealing hearts as he belted out the words, "Empty Chairs and Empty Tables."
Realistic death scenes, a heart pounding cart crash and Jean Valjean taking Marius and others into a sewer blended perfectly with all elements of the production. Pure humanity and hope rang out in the numbers "At the End of the Day, "One Day More and "Do You Hear the People Sing?"
Perfectly placed constables, an ABC Society factory workers, lovely ladies a stage and phantom chorus added an extra level of interest to a moving show.
Detailed sets and flawless scenery changes set the stage. Ryan Jensen served as the Music Director. Behind the scenes Emily Green and Abby Mattson took on the responsibility of being co-student directors.
Kristi Neumer worked with the cast as choreographer. Making the production shine even more were lighting crews, and hair and makeup crews.
Costume designs by Susan Dibble all fit perfectly into the show.
Hononegah High School's drama department gave a performance that left a powerhouse
impression on audiences.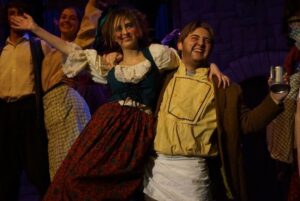 Courtesy photos
Tim Schultz and Brittney Legowski were front in center in the number "Master of the House" as the company joined in.