Ledgewood School teacher honored with Golden Apple Award
By Margaret Downing
Reporter
ROSCOE – Ledgewood School's special education teacher, Tina Cuppini, who teaches kindergarten and first grade, was honored March 10 as a Golden Apple recipient.
According to school principal, Chad Etnyre, "Tina is very good at understanding what kids want and need and she works very hard at that. She is special, and like all teachers is 100 percent invested in her students and also her colleagues. She absolutely cares."
Etnyre explained that everyone at the school celebrated throughout the day with Cuppini's classroom having a revolving door as coworkers stopped by to congratulate her.
Five teachers located in Boone and Winnebago counties were honored with the award March 10. Etnyre said the occasion "offered a good opportunity to reflect," and the pursuance of accolades doesn't enter into the equation. He added, "It is definitely though, a real honor for not only Tina but also for Ledgewood and Stone Creek Schools, and for the Kinnikinnick School District."
Cuppini has been with the Kinnikinnick District going on six years.
The Golden Apple Foundation, according to its website, "is a volunteer organization that celebrates, inspires and supports educational excellence in our community. Local founders, Don Zimmerman and Dr. Richard Novak, took a common passion for education and turned it into a collective community effort by mobilizing volunteers to recognize excellence in teaching."
The Golden Apple Foundation's Board of Directors consists of area business leaders and educators.
The Foundation "operates on the generous financial support of community businesses and individuals, as well as the more than 400 volunteers that donate their time and effort to make these programs successful each year."
Tina's parents, Nan and Geno Cuppini, along with brother Tim and Tina's boyfriend, Bob Parro, were present at Ledgewood to see Tina honored. Nan Cuppini explained that Tina "co-teaches with Mrs. Heidi Milner" and is very dedicated to her profession. Tina graduated from Christian Life High School in Rockford before attending Rockford College (now University) before going on to graduate from Northern Illinois University.
According to Tina Cuppini's biography at the Ledgewood School website, she notes, "My educational background includes completion of the special education teacher licensure program (kindergarten-age 21) at NIU. My experience with individuals with special abilities also includes working as an assistant for adults with intellectual disabilities through Opportunity House, working as a house worker for adults with intellectual disabilities, and working as an individual assistant for a girl with cerebral palsy."
Cuppini has found her niche and she performs in it well – and it was obvious that the children in her classroom adore her! A celebratory banquet honoring the five recipients is
planned for May.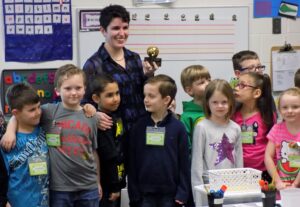 Margaret Downing photos
Ledgewood School kindergarten and first grade special education teacher, Tina Cuppini, is pictured March 10 with some of her students after she was presented with a Golden Apple award.