Students at Shirland School shine with exceptional talent
By Marianne Mueller-
Reporter
SHIRLAND – Shirland School's stage was full of the finest entertainment on Tuesday evening, Feb.16 as students performed songs, dance routines, and excerpts from the musical, "The Little Mermaid Jr."
The talent show was sponsored by the Shirland 2015-2016 Student Council under the direction of Mrs. Rebecca Clinite and Mrs. Amber Emerson. The Shirland PTO recently updated the sound system assuring the sharpest, clearest stage performances.
Seventh grader Allie Rowe opened the show by singing "One Call Away."
Drawing great interest was an act by third grader, Alex Thiering who captured attention as he completed a one minute handstand.
Third grader Connor Diemel displayed his vocal abilities on the song "Dress Blues."
Second grader Teagan Way danced to a high energy routine with the popular, catchy tune of "Uptown Funk "playing in the background.
The fun, catchy, lyrics of "What does the Fox Say?" were performed by fifth grader Jaden Lundstrom.
Showing a novel skill set, sisters Olivia and Aubrey Carlson who are in third and first grade gave an eye catching, fun to watch Tae Kwon Do demonstration.
Sixth graders Marina Way and Maddy Dobnick captured hearts. Way sang as Dobnick accompanied through sign language to lyrics of a lively version of "Call Me Maybe."
Braxton Brown created a popular, bluesy feel singing "Hey there Delilah" accompanied by playing a ukulele. Brown is in the seventh grade.
First grader Anthony Meyers hit all the right notes while keeping perfect time on the song, "Buy me a boat."
The Shirland Junior High Choir shared an excerpt in acting and song of an upcoming production of "The Little Mermaid." A high energy rendition of "Under the Sea" had audience members tapping feet and singing along.
Under the Direction of Dawn Heavilin the Shirland School choir is comprised of: Barbara Everley, Hannah Miller, Caitlyn Whiteman, Braxton Brown, Joseph Kline, Allie Rowe, Hailey Dalton, Maddy Dobnick, Ebererly, and Marina Way.
Giving Shirland School visitors a memorable conclusion was fourth grader Xander Way who amazed all of the as he performed three different magic tricks. A water trick was done using three cups.
Way utilized the help of volunteers to complete the second part of his act. Extra-large cards were used to help Way proceed with a cool mind reading activity. He finished by predicting the order that a deck of cards came in while performing a separate card trick.
Fun came in all varieties at Shirland School's talent show which untapped great potential in all performers futures.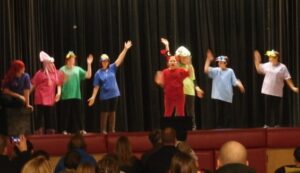 Marianne Mueller photos
The Shirland School Choir performed a scene from "The Little Mermaid Jr.," during the Talent Show on Tuesday, Feb. 16.