MercyRockford EMS Systems teams with Sheriff's Department on Narcan training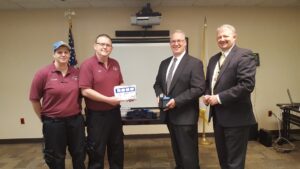 By David Ernest
Boone County Sheriff
BOONE COUNTY – On Wednesday, April 6, all Boone County Sheriff's Deputies began carrying Naloxone kits. Naloxone, commonly known as Narcan, reverses the effects of opiates. Narcan is typically administered during a heroin overdose.
In February 2016, all law enforcement officers of the Boone County Sheriff's Office were trained in the use of Narcan by MercyRockford EMS Systems. MercyRockford EMS in partnership with Capron Rescue Squad provided the Sheriff's Office with Narcan Kits for every officer at no cost.
The Boone County Sheriff's Office would like to thank MercyRockford EMS System and Capron Rescue Squad for their generous donation.