'Art is Awesome' at Kinnikinnick School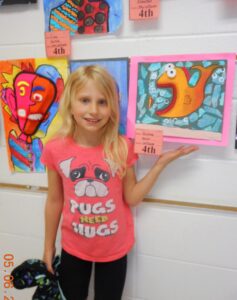 By Jean Seegers
Reporter
ROSCOE – Kinnikinnick School held their Fine Arts Festival on Thursday evening, May 5. Fourth and fifth grade students proudly showed their works of art to proud parents and friends.
Under the direction of Art teacher Brooke LaBuy, the fourth grade art project featured Picasso with a twist.
Students learned and discussed Picasso's style of art and tried their hand at creating distorted faces.  Students also created original self- portraits, and "fantastic" fish.
The fifth grade art projects was painting BIG cats on BIG paper, creating original self- portraits, Day of the Dead sugar skulls (masks) and non-objective art.
Five Kinnikinnick students were selected this year for the Rockford Art Museum showcase of student artwork from schools in Winnebago County:  Jennifer Beck – 5th grade;  Emma Swicegood – 5th grade; Tyler Lawson – 4th, Katie Ericson – 4th grade and Brynne Fogarty – 4th grade.
The Fine Art Festival also featured music by the Kinnikinnick Band and, ice cream donated by the Roscoe PTO and a huge book sale in the school library.