Beyond the Door Boutique welcomes spring with luncheon, fashion show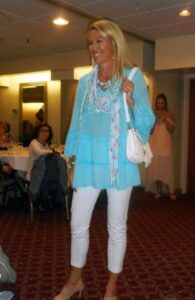 By Jean Seegers
Reporter
ROSCOE – May Day was celebrated in style as 76 ladies enjoyed a Sunday lunch and fashion show at Tuscan Grill, 5506 Clayton Circle in Roscoe. Wearing the newest spring fashions featuring glam, glitter and lots of color,
Amy McCormick, Beth Gliebe, Anita Cosgriff, Heather Trent,and DiannySobojinskimodeled a variety of fashions for every size and every occasion.
Beyond the Door owner Jilly Martini and sales associates JulieThoren and Katie Zucchi coordinated the afternoon show.  Jan Lavern was emcee for the program.
Each attendee was presented with a swagbag containing soap, body butter, earrings, keychain and earrings.
Martini invited her guests to visit her Beyond the Door and Karoline's Closet Consignment Shop following the luncheon.
"We are already planning another luncheon and fashion show for late September," Martini said.