Harlem-Roscoe Fire Dept. celebrated EMS Week – May 15-21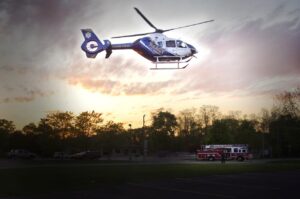 STATELINE – Harlem-Roscoe Fire Battalion Chief Jay Alms says, "Harlem-Roscoe Fire has celebrated EMS Week for years with a cookout and recognition of their EMS personnel.
This year along with the cookout, the firefighter's training for the night was a Helicopter Safety Class with React Helicopter landing on the back lot. We are very proud of what our EMS personnel contributes to the community's well-being.
Today the ambulance responds to eight out of every 10 calls. Last year the EMS crews responded to well over 2,000 calls. In 2016 we are on a pace to beat those numbers again. It's takes a lot of commitment and continued education to maintain the high level we expect from our EMS personnel.
Time and time again the crews meet or exceed our expectations. I'm proud to be part of the EMS crew that responds 24/7/365. You should be equally as proud of what the District provides. Congratulations to EMS nationwide and stop and say thank you when the occasion presents itself.
Harlem-Roscoe Fire Photographer and the HRFD 75th Anniversary History Book writer Sheryl Drost gives a little history on their EMS program  "If a resident in the Harlem-Roscoe Fire District had a heart attack or was injured in an accident in the 1940s they had to wait for an ambulance to arrive from the nearby cities of Rockford or Beloit.
"The wait could be up to an hour. The 1970s saw major advancements in emergency medical care with the introduction of Emergency Medical Service (EMS). Firefighters became EMTs and local nurses rode along to help with the medical calls.
"In 1979 Harlem-Roscoe Fire became the first local volunteer fire department to have a Paramedic (retired Chief Oscar Presley) and in 1981, the first official "Trauma Unit" ambulance was purchased.
Advances in technology exploded over the next thirty-five years and today the department operates four Advanced Life Support (ALS) ambulances equipped with state-of-the art equipment.
The department also staffs paramedics 24/7 at all three stations and they are backed up by the volunteers."
Harlem-Roscoe Fire Protections District Trustees Bart Munger, John Donahue, and Al Bach wish to thank the following Paramedics and EMTs that serve the HRFD Fire District:
HRFD Paramedics: Battalion Chief Jay Alms, Deputy Chief John Bergeron, Lt. John Donovan, Robert Gonia, Kelly Hamill, Lt. Josh Hoffland, Lt. Radi Huggard, David Leslie, Robert Lukowski, Lt. Justin Mayton. Mike Powell, Reety Radke, Steve Rosander, Ryan Sarver, Killian Schroeder, Lt. Steve Shoevlin, Lt. Brandon Tietz, and Lt. Patrick Trollop.
HRFD EMTs: Battalion Chief Tom Aaker, Captain Ryan Alms, Capt. Tim Bergeron, Adam Eich, Justin Harwood, Mike Helland, Capt. Mike Huffman, Scott Jensen, Joe Koeninger, Sean Laurent, Stefani Layman, Jesse Martin, Sam, McNames, Ryan Messinger, Brett Parrish, Nathan Sarver, Austin Richards, Brandon Sherbon, Chief Donald Shoevlin, Jordan Stark, Jason Street, and Greg Wernick.