Candlewick Lake hosts another bass tournament
By Barb Appelhans
Reporter
CANDLEWICK LAKE – Candlewick Lake held their annual Catch and Release Bass Tournament on Saturday June 4.
Ten boats, with two men in each paid the entry fee of $100 a boat to compete in the tournament.  This money was put toward the prize money for the Catch and Release Bass Tournament winners.
The winners were determined by the weight of the bass returned at the end of the tournament. Each boat had a limit of six bass to bring back. Whichever boat brought back the six bass that weighed the most won the competition.
Chuck Hart ran the tournament and began the day's proceedings by explaining the rules and making sure all of the boats were working. Hart also looked over everyone's inventory to make sure there was no live bait being used during competition.
Hart made sure everyone knew that if there were any severe weather warnings posted that everyone must get off of the lake immediately.
During the tournament, the boats could only reach a maximum of five miles an hour with no wake speed.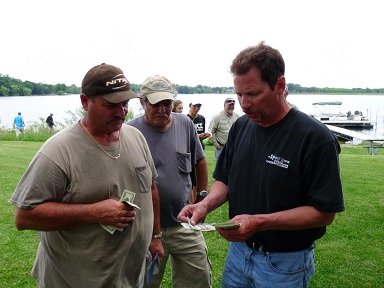 If a severe weather warning came after the competition started, Hart notified everyone that he would speed around the lake at 30 miles an hour to warn the competitors to get off the lake.
However, throughout the competition, the weather remained clear enough to continue fishing. The day did see a few sprinkles of rain here and there, but for the most part, it was a great day to be out on the lake.
The tournament began at 6 a.m. sharp and competitors were asked to be bake with their six bass by the check in time of 1 p.m. If boats hadn't returned by 1 p.m., the competitors were disqualified.
After weighing all of the competitors' catches, Jim Scheffres was found to be the winner with the Big Bass competition with a beautiful 2.55 bass. This winning fish won Scheffres $200.
Scheffres and his partner, Sam Militello, also took home first place by netting a weight of 12.65 in bass for their hall. Scheffres and Militello won $400 for their prize.
Randy Brown and Jeff Gorham took home the second place prize. They caught a weight of 12.63 in bass. They won $240.
Larry Griffin and Mark Fidder placed third for the day. They caught a combined weight of 11.78 in bass. For third place, they won $160.