Dedicated to serve event honors unsung heroes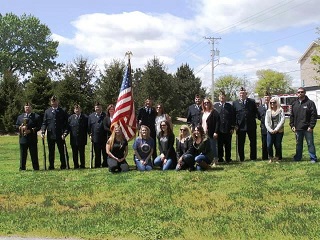 By Marianne Mueller
Reporter
ROCKTON – Every day heroes exist everywhere who never seek or expect any recognition. Those who care for others, serve, or protect on a daily basis were at the core of Rockton Sanctuary Spa's third annual Dedicated to serve event on Sunday, May 15.
"The people we are dedicating this day to be truly the heart of our community, they are always there to help someone," said Erica Smith, owner of the Rockton Sanctuary Spa.
Michele Pankow of Rockford Fire performed the National Anthem with great passion.
"There is no greater feeling than Erica putting something like this together, said guest speaker, U.S. Army Veteran, Judy Taylor. "I served one tour in Iraq in 2004. I would like to say thank you to our Military," lauded Taylor.
Taylor joined the Army at the age of 17 enlisting as a Civil Affairs Specialist. She served overseas in Operation Iraqi Freedom from 2004-2005.
Her time spent overseas was in Ba Qu bah, Iraq where she was the Youth and Sports Director in the Diyala, Province. At age 19 she went into combat.
When she was 22 years old she became a U.S. Army Recruiter; stationed in Connecticut during her four-year contract.
Taylor was the top recruiter in her Battalion for three years in a row. At age 27 she put her boots away and left the Army as a Staff Sargent promotable.
Taylor's extensive military background encompasses: Civil Affairs, Airborne Parachutist, Combat Life Saver, Public Affairs, Recruiting and Retention, Sexual Harassment Liaison, Unit Prevention Liaison and Team Sargent.
Rockton's Walter Graham American Legion Post #332 Rifle Squad presented arms followed by a 21-gun salute. Commander Jim Griffin played a chilling version of Taps.
Rows of fun and educational opportunities were found at different booths included Wing Women on Wheels, a hugging booth, and face painting for kids.
Rockton Fire had an eye-catching fire ladder display, and allowed guests to check out equipment used by firemen and paramedics. Additionally, young ones were able to learn fire safety by stepping into a smoke house.
The Rockton Police talked with the public. Macktown Lions Club, Midway Village Museum, Sweet Hope Bakery and Talcott Library who serve the community in different ways were each represented.
Macktown Lions Club members collected 15 pairs of glasses, six cell phones, five ink cartridges and a hearing aid charger to be recycled.
Steve Shannon generously gave his time as the events DJ. Little Whiskey entertained as they performed hours of music.
Operation Support Our Troops- America greeted visitors. This organization is a volunteer non-profit (501C3) organization whose mission is to improve the morale of troops serving in harms, to support the families of deployed military, and provides help and support to returning wounded.
To show support of all who serve letters written to our Troops hold special meaning. Young ones or those who are unable to write may choose an option of coloring a picture. Hoping to further their mission Operation Support our Troops sold T-shirts. A total of $40 was raised in addition to goods donated to Operation Support our Troops came from Hilton Gardens of Beloit, The Olive Oil Experience, PI Roasting Coffee Company and the Rockton Sanctuary Spa.
True unsung heroes dedicated to serve are the heart of every community.