Mayor swears in new police chief, two new officers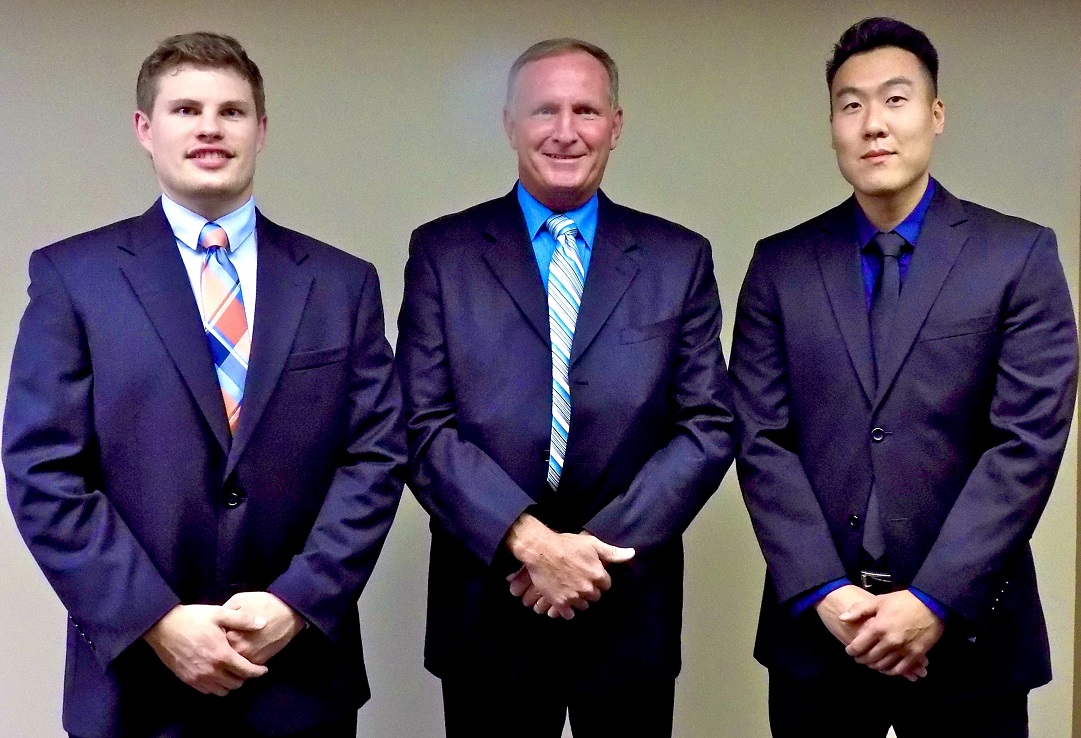 By Margaret Downing
Reporter
At the June 13 Loves Park City Council meeting, aldermen, along with a council chamber full of people, welcomed the city's newly appointed police chief, Charles "Chuck" Lynde and two new police officers – Dale Jeon of Lincolnwood, and Wesley Mathieu of Rockford.
Former Deputy Chief Lynde replaces Rodney Scott, who recently resigned his position with the city.
According to Mayor Darryl Lindberg, Lynde is a graduate of Northwestern's Police Staff and Command Program and served as a Winnebago County Sheriff's Deputy from April1985 until he was laid off in a cost cutting measure in October of that year. He was then hired that November by, at that time, Police Chief Darryl Lindberg, as a part-time patrol officer for the city.
Lynde next became a full time patrol officer on March 28, 1988. He served as a canine handler from April 1992 through Nov. 2012 when he was promoted to sergeant on Oct. 15, 1996, and served as Administrative Sergeant through Feb. 2014. On Feb. 3 of that year he was promoted to Deputy Chief overseeing department operations.
The two newly appointed officers were chosen from the Civil Service Eligibility List:
* No. 1 was Dale Jeon; a graduate of Niles North H.S. Jeon served active duty in the United States Marine Corps for four years and was deployed to Iraq in 2009. He currently lives in Lincolnwood near Evanston, but is looking to relocate to the area in the very near future.
* No. 2 is Wesley Mathieu, who graduated from Stillman Valley H.S. and UW Platteville where he majored in Criminal Justice. After graduation he was employed by the Winnebago County Coroner's Office for two years and was employed at the Rock County Medical Examiner's Office for the last year and a half. He recently moved to Rockford.
The mayor swore Chief Lynde in with an effective date of June 13, and Jeon and Mathieu with effective start dates of June 26.
In other business, Alderman Clint Little gave the weekly police activity report for the week of June 5-11. There were 540 calls for service, 222 arrests, and 11 accidents reported.
On the weekly fire department report dated June 12, one fire call three false fire alarm calls, one rescue call, one mutual aid call, three carbon monoxide or gas leak calls, one wires down call, one hazardous material call, and one smoke or odor investigation call were reported.
City Clerk Bob Burden reported that the city had received $54,236.25 in Motor Fuel Tax funds from the Illinois Department of Transportation for the month of May.
Water bills amounting to $84,422.86 and general fund and all other bills totaling $709,320.47, as presented June 6, were approved for payment.
A special event permit for Manuel Salgado to hold vendor shows in the parking lot of the Victory Sports Complex on N. Alpine Road on Sunday, July 10 with a rain date of Sunday, July 24, was approved with the following specifications: Winnebago County Health Dept. approval for all food vendors; all tents to be "uniform," and all signage be professionally done. Lastly he must receive approval from Fire Chief Phil Foley regarding safety concerns.
A special event permit for Hidden Treasures in the 6300 block of N. Second St. to hold an antique vendor show in the Meadowmart parking lot on July 25-26, and July 30-31 from 10 a.m. to 6 p.m. was okayed with the following conditions: all signage to be professionally done; all tents to be uniform; and all traffic lanes surrounding the vendor show must remain open at all times.
Two ordinances, second reading were adopted: one "ascertaining the prevailing rate of wages for construction of public works" in the city, and the other "adopting regulations for development within floodplain areas.
A request by the manager of Park Towers to have stop signs "reinstalled" at the complex for the safety of residents on foot was referred to committee.