New Millennium Medical hosts office warming party to celebrate new location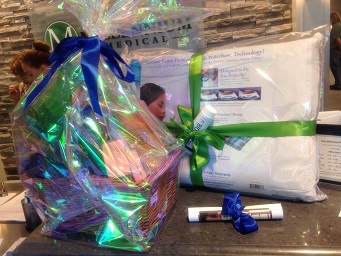 By Matt Helm
Reporter
BELVIDERE ─ New Millennium Medical held an office warming party at their new location at 1424 N. State St. in Belvidere on Wednesday, June 8 from 5:30 p.m. to 8 p.m.
"New Millennium Medical went from offering chiropractic services to being fully medically integrated," Dr. Chris Parrett said. "We were no longer able to accommodate all of the new services under one room. The biggest reason we moved was to be able to grow into the building and take care of more people."
New Millennium Medical relocated a month ago into a 1,000 square foot office space.
"We now have a nurse practitioner on staff, which means we are able to provide medical services that are integrated into our holistic approach," Dr. Parrett said. "We provide help with knee pain, muscle pain, massage therapy, and a medical weight loss program. We are also able to do some specialized injections now. We are able to do all of this while maintaining our natural and holistic outlook."
New Millennium Medical hopes to bring in a second doctor to their practice, along with offering acupuncture and allergy testing services.
"By taking providers from each avenue of health care, we are able to do physical therapy and medical examinations," Dr. Parrett said. "All of these services are starting to come into play and now we have created a space to accommodate everything under one roof."
The office warming wine opener featured local vendors, raffles, complimentary chair massages, and hors d'oeuvres. Prizes included a specialized chiropractic pillow with bio freeze and a package for a one hour massage for six straight months.
New Millennium Medical is running a $37 an hour massage deal through the end of July.
Vendors included items from Thirty One Gifts and Arbonne Health and Beauty Products.
"The office warming party is bright and welcoming and we've got a lot of people coming to check out what we are selling," Arbonne representative Nicole Aspenson said. "I love the new building. I've been going to New Millennium for three years and this office is a lot nicer than the first one. I am definitely looking forward to the massage section of it."
Dr. Parrett was born and raised in Belvidere and is trained to analyze spinal health.
"Ultimately, the move was so I can grow my practice," Dr. Parrett said. "I am excited to be able to offer multiple services and to reach a wider audience. Not everyone goes to a chiropractor and to be able to offer more services is a good thing for the community."
To learn more about New Millennium Medical, please call (779) 522-8358.