Rockton Lions Club OSD festival deemed huge success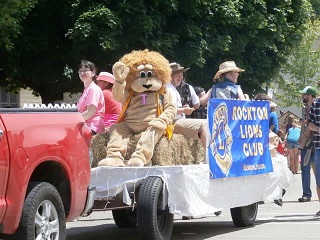 By Marianne Mueller
REPORTER
Perfect weather, a nicely set up venue and loads of fun where found in a four-day time span at the 2016 OSD Festival. Organized through the Rockton Lions Club Steve Pomahac, OSD Chair and an all-volunteer committee spent months planning to bring the best of family fun to Rockton.
An estimated 30,000 people entered through the festival gates of Settlers Park.
Opening the festivities 176 donors gave the gift of life creating a record for the greatest amount of donors since the drive was first introduced. The Rockton Lions Club also received a large quantity of eye glasses that will be recycled and redistributed.
Top name headliners entertained on the Bryden Ram Jam Main stage all four days. Thursday evening Dustin Lynch was joined by Brett Young and Tyler Rich. Cassadee Pope and Kip Moore amazed audiences on Friday night. Kip Moore greeted fans back stage after the show to sign autographs.
Hunter Hayes rocked the stage following performances by Love and Theft and Jameson Rogers who captured great attention on Saturday night. Rounding out concerts was Easton Corbin with Brothers Osborne and Kane Brown.
Local performers appeared on the festival stage. Jamie Campbell of Jamie Campbell and the Redneck Romeos, Pablo and the Rhythmix, Gina Venier, Zac Mathews Band, Jayme Squires, South 40, Olivia Dvorak, Rollin' Whiskey, Minimal and Audio Drive each entertained by bringing different  genres of music to the festival stage.
In March the Rockton Lions Club lost one of their own. The Rhonda Fair VIP tent was dedicated in Fair's memory. She was instrumental in her work with Wimpy's fund and helping needy families at Christmastime by sponsoring a family each year. Everything that Rhonda Fair did to help others was accompanied by a beautiful smile and done with a positive attitude.
Shopping fun came in the form of searching for cowboy hats, lighted items and outerwear.
Rows of food vendors had something to fit everyone's tastes. Pizza, burgers, and cotton candy, which are traditional favorites blended well with Mexican fare and bloomin' onions. Lemonade shake-ups, water and pop quenched thirsts. Games in the Midway allowed visitors and competitors to win prizes or to just have pure fun!
Skinners Amusements set up rides so that young ones and those who are young at heart could ride on bumper cars, flying bee rides, tea cups, the Zipper, the Phantom, or a Ferris wheel.
Organized by Michelle Camacho the third year of the OSD 5K started off Saturday's action! Each year this event grows larger in support of the Carrie Lynn Center. Participants enjoyed a lovely breakfast prepared by Rockton Fire and received swag bags and t-shirts. Top overall winners earned meet and greet packages.
The Rockton Lions Club was represented with a float featuring Leo the Lion and members of the Leo Club. Local churches, clowns, a local Corvette Club, the Hononegah Indianettes, HHS marching band, and "Stand up to Cancer," Roscoe Rockton Lions youth football players and cheerleaders, businesses, Piano Tunes Academy, young ones playing with remote control cars, families with little ones riding in neat toys with balloon displays, plus a 70's get up complete with VW bus and hippie just tapped the surface of fun found at the OSD parade! Taylor Company marched down the parade route celebrating 90 years in the Rockton community. Jaymes Bock and Chris Weaver served as the parade organizers.
A spectacular fireworks crafted by J&M  displays lit up Sunday night's sky signifying the end of another successful OSD Festival.
Rockton Lions Club and OSD committee member, Monique Weaver shares, "The Rockton Lions are pleased that so much of the community and beyond came out to support our event. This year looks to be another good one for us. As a club we are grateful for the support and the giving nature of our area. We are already looking forward to 2017!"
"We were very successful and the festival will allow us to support many community projects and associations in the coming year. Our next President, Tami Verstraete will be putting together a budget for the coming year this summer; however, we should be able to support all of those we have supported in the past. While it is hard for us to match our 2015 attendance we can still mark this down as a top year in attendance and profit. I would like to give a special thank you to all of our volunteers, Rockton Lions, other Lions Clubs, community members and our sponsors who helped in this venture. It really speaks volumes for those who come together for a common cause and what we can achieve," said Rockton Lions Club President, Kerri Wallace.