Dr. Joe Carlisle, 94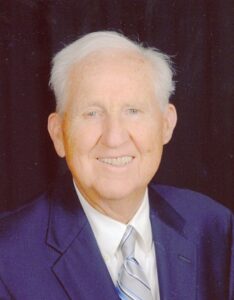 Joe Carlisle served the Belvidere community for 40 years as a family doctor.
He was born in Edwardsburg, Mich. to Harley and Ida Runkle Carlisle. He was the youngest of five siblings. The family relocated to Michigan City, Ind. when his father bought the Carlisle Funeral Home.
He attended Indiana University in Pre-Med before he was drafted by the Army in World War II. He was sent to Camp Grant for basic training and shipped to Leshima Island in the South Pacific, where he served as a lab technician in a field hospital. In 1946, after his return from the war, he completed his medical degree from Indiana University.
He married Delores Scotten in 1951 and moved to Belvidere in 1953 with their infant son, Tom, to start his private medical practice on Lincoln Ave.
Their family was complete with the addition of Jeffrey, Julianne, and Jaynanne.
Joe and Dee became snow birds to Florida where he volunteered at a free clinic for a number of years. He was a very active person, playing golf every chance he could, sailing on Lake Delavan, Wis., and skiing with family and friends in Wisconsin.
During his working years, he was involved with professional and community organizations where ever he could lend his expertise. His grandchildren were special to him teaching them to play the Kazoo. They were Tim, Jon (Melanie),
Scott Koritz, Emily and Matthew Carlisle, Gillian and Ryan Montgomery and Kathryn Carlisle and one great grandson: Staton Koritz.
His extended family included nephews, William (Sara) Carlisle, Craig Carlisle, Mark Carlisle, Carol Carlisle (Douglas) Nunez, and Steve Lewis.
He now joins his two sisters: Imogene and Margaret and two brothers: Robert and James and his son, Tom.
He had the strongest will to live and enjoyed life to the fullest, always with good humor and joy in all that he did.
Funeral Services will be held at 3 p.m. on Saturday, July 30, at First United Methodist Church, located at 610 Bonus Ave. in Belvidere, with Rev. Kenneth Lemmel officiating.
A visitation will be held from 1 p.m., until the time of service. Burial will be in Belvidere Cemetery.
To light a candle or share a condolence, please visit www.AndersonFCS.com.