Man arrested at Clayton House on drugs, weapons charges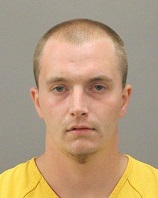 On Tuesday, July 12 at around 11 p.m., Loves Park officers responded to the Clayton House Motel, where they met with the occupants of one of the rooms. After a search of the room, Dylan M. Bryant, 24, of Machesney Park, was arrested.
Bryant was charged with Unlawful Possession of a Firearm by a Gang Member, Armed Violence, Aggravated Unlawful Use of a Firearm By a Felon, Possession of a Firearm Without a Firearm Owners Identification, Possession With Intent To Deliver 15 to 100 Grams of Cocaine, Possession With Intent to Deliver 15 to 100 Grams of Cocaine Within a 1,000 Feet of a Park.
Criminal charges are merely allegations and the defendant is considered innocent unless proven guilty in a court of law.