McHenry Township RECYCLING DAY Saturday, July 16 from 8 am to 12 pm!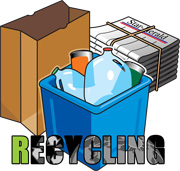 Services provided by
McHenry Township
Road District
for more information
call 815-385-3076
   read more about our new programs:
Recycling Program
You will be asked to show a photo ID with your address at the recycling site. The recycling program is for McHenry Township residential homeowners only, no out of state residents, residents of other townships, or commercial enterprises. If the staff on duty, for whatever reason, feels the person requesting recycling is a contractor or lives out of the area, that person will be turned away. This program is funded by our residents and is for our residents.
THINK GREEN! RECYCLE!
 Brush: We accept brush and tree limbs which Road District personnel put through the wood chipper to make wood chip mulch. Branches and twigs must be no larger than eight inches in diameter and ten feet in length. Last year, we produced approximately 90-100 tons of wood chips. The Road District dumps truckloads of wood chips in the parking lot of the Township Park. 

Wood chips are available at no cost to Township residents only (not for commercial enterprises). The chip pile is located in the southeast corner of McHenry Township Park Athletic Field parking lot just south of the FISH Food Pantry building at 3515 N. Richmond Road (behind the Moose Lodge). Please help yourself!
For additional information about  McHenry Township Road District's Recycling Program call the McHenry Township Road District at 815-385-3076.  
Pick up a copy of the 2014 McHenry County Green Guide Recycling Directory at McHenry Township Office, 3703 N. Richmond Road or download a copy of the 32-page directory here.
Electronics:

It is no longer legal to put your laptop in the trash — or for that matter, over a dozen other items, from a mouse to portable digital music players which are part of an expanded list of electronics banned from landfills  by Illinois law. Waste disposal companies cannot pickup electronics and dump them into a landfill or they face very high fines.

McHenry Township has an accessible drop-off location which is intended to motivate residents to dispose of their used computers and electronics in an environmentally responsible manner. In 2015, we recycled a total of 6.5 tons of electronics. The Road District also recycled 1 ton of household and automotive batteries.

You have an obligation to prevent the dangers that result from irresponsibly disposing of your highly toxic electronics. Your electronic waste contains metals, which include gold, cadmium, lead and silver, if landfilled they can threaten groundwater.

McHenry Township residents can drop off their unwanted electronic equipment at our Recycling Center. We will then palletize the electronic discards for shipment to an end market, where they will be refurbished, demanufactured and/or electronic scrap recycled.

As of May 21st, the township is now partnering with The Environmental Defenders of McHenry County for our recycling program. Acceptable items now include televisions, miscellaneous electronics, CFL bulbs, fluorescent tubes, VHS/cassette tapes, and CDs/DVDs.

Donations are suggested for particular items to offset the costs of transportation and proper recycling methods- see list below.  All donations will go to The Environmental Defenders of McHenry County. Your donation is tax deductible.

Accepted at no charge:
– computer hard drives
– keyboards
– mice
– printers
– scanners
– word processors
– calculators
– battery backups
– VCRs & DVD players
– ink cartridges
– telephones
– VHS/cassette tapes/CDs/DVDs
– miscellaneous electronics (most anything that plugs-in or runs on batteries)
– batteries (household & automotive)
– eyeglasses (in cooperation with McHenry Lions Club)
Specific donation amounts are requested for:
         – Televisions & Monitors: .50 cents per pound or $30 maximum
         – CFL bulbs/Fluorescent tubes:  .50 cents to $1 each
We will provide one semi-trailer every month to haul away most of the electronic recycling except for a few items. Once the trailer is full, the doors will be closed for that date and recycling will resume the next month.
If we find that we need more space, an additional semi-trailer will be added.