New season opens in style for Roscoe Rockton Lions Jr. Indians football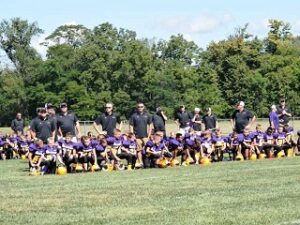 By Marianne Mueller
REPORTER
Excitement mounted as hundreds of football players, coaches, assistant coaches, cheer teams and supporters welcomed a new season of Roscoe Rockton Lions Football on Saturday morning, Aug. 6 at the Rockton Athletic Fields.
Jeff Schelling announced the day's action. Families and friends of the Junior Indians were given a warm welcome along with a notice of a fun filled day ahead.
Respectful silence filled the grounds following the introduction of the Harlem Roscoe Fire Department Color Guard. The Color Guard started off the ceremony with a meaningful presentation of Colors.
Chris McElmeel performed a flawless rendition of our National Anthem.
The Junior Indians has over 500 participants. Under the leadership of positive role models fundamentals of sportsmanship and learning proper football etiquette are taught and adhered to in addition to developing football skills.
The overall organization is part of two conferences, one of which is The Stateline Jr. High Football Conference; the only middle school football program that covers the Junior Indians seventh and eighth grade purple and gold teams, known as the Junior Indians. Currently 11 schools from the area make up this conference.
The second is the Northern IL. Football Conference which covers flyweight, lightweight, Middle weight and Heavyweight squads known as the Chiefs, Hawks, and Aztecs.  It is comprised of over 45 teams from 16 different organizations.
Overseeing all operations of the Roscoe Lion's Jr. Indians Football organization is an all-volunteer Board of Directors. Serving as President in her 13th year is Mary Lewis. Adam May, Jessica Poppe, Brian Hulburt, Stephanie Broege, Steve Franklin, Don Lester, Doug Nelson, Russell Rogge, and Andy West completes this segment of Directors.
Dennis Kentner is the Athletic Director, Adam Cross and Jerry Poppe is the Football Coaching Coordinators. Anna Hulburt and Tara Smith team up as Cheer Directors. Don Vogt, Rich Lewis, Marc Kuney and the Hononegah Senior Varsity football players assembled to bring another NFL Punt, Pass, and Kick competition to life.
The Villages of Roscoe and Rockton and the Roscoe Township were given special thanks for the use of their fields and continued support of all football and cheer programs.
Local dignitaries received special recognition. Roscoe Village President Dave Krienke, Rockton Village President Dale Adams, Rockton Village Trustee Jodi May, Harlem Roscoe Fire Chief Don Shoevlin, Hononegah High School Principal Eric Flohr, Athletic Director HHS- Steve Cofoid, Prairie Hill Superintendent Wes Heiar, Whitman Post Elementary Principal Megan Forsythe, Stephen Mack Principal Autumn Czizek, Assistant Principal of Kinnikinnick Matt Roer, Kinnikinnick Athletic Director Brian Knipp, and local media outlets were on hand to celebrate a new season.
Rockton Grade School Principal Kindyl Etnyre, Head coach of Hononegah Brian Zimmerman, Head football coach of Beloit College Seth Deurr, and Jeremy Warren-Offensive Coordinator also from Beloit College each were recognized for roles that they play in backing the overall program.
All sponsors of the Roscoe Rockton Lions Junior Indians organization received special mention.
With great excitement all football teams of various classifications, coaches, assistant coaches and cheer squads entered centerfield. Great applause arose from the stands as each was named.
Cheer squads entertained with unique performances.
Xtreme Fire is prepared to show full support of teams on the field this season. It was noted that the Jr. Indians Xtreme team is in its ninth season of competitive cheer. The team competes in several competitions in Northern IL., and in Southern WI.
Xtreme has the distinction of being an award winning program that runs July through March. Xtreme Cheer creates high energy, fun routines that keep spirits and energy levels running high!
Jr. Indians cheer teams involve girl's ages 8-14 that focus on learning fundamentals as well as advanced cheerleading skills.
New to the scene the 'Lil Indians' cheer squad delighted everyone with catchy routines.
Attention turned to Gracie Wolfe who was introduced as the Roscoe Rockton Lions Jr. Indian Princess. Wolfe amazed by blending precision dance moves with acrobatics.
With the crowd now fully warmed up and ready to see more cheer teams from the flyweight, lightweight, Middle/Heavyweight Divisions and Varsity Cheerleaders displayed great skills in each routine incorporating lifts, dancing, pom -poms and triads.
After the ceremonies conclusion an NFL Punt, Pass, and Kick competition. First, second and third place winners in specific age groups received a Walmart gift card, courtesy of the RR Jr. Lions program. First place winners will advance to sectionals in October. Sectional winners can advance to the team championship, which will be held during a pregame or halftime of a Chicago Bears game.
A potluck picnic allowed families and players to become better acquainted with each other and all who are involved in the Roscoe Rockton Lions Jr. Indians Football organization.
The 2016 season kicked off in style as the final question asked was, "Are you ready for some football?"