Nygren Wetlands hosts evening of nature poetry, prose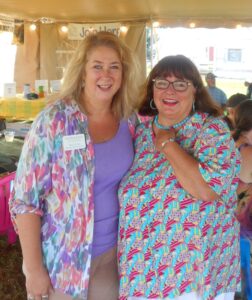 By Jean Seegers
REPORTER
Twilight is a special time at Nygren Wetland Preserve.Prairie wildflowers are at their peak and wetland wildlife abound.  On Thursday, Aug. 4, several dozen guests, seated under a large tent in the middle of the prairie, enjoyed the view while sampling refreshments and appetizers and listened to local writers read their nature-themed poetry and prose.
Nationally recognized and award winning poet and author, Christine Swanberg led a line-up of featured writers and was MC for "Nature Poetry & Prose" a program celebrating the natural world.
Swanberg has been writing poetry for 35 to 40 year.  She graduated with a bachelor's degree from UW-Whitewater.  For the next 35 years, she taught English, speech and drama at East High School in Rockford and at National Lewis Institute.
"I was of the generation when women weren't exploring their talents," Swanberg said."In the middle of my early teaching career I had this strong desire to write."
"Tonight on This Late Road," her first book of poems, was published in 1984.  Swanberg has authored four additional books of poetry.Her work also appears in several women's anthologies and journals.
She is the recipient of the Rockford Mayor's Arts Lawrence E. Gloyd Award for Community Impact and a former Pushcart Press Nominee.She has led workshops at The Clearing in Door County and the Nygren Art and Nature Program.
Swanberg read 12 short poems describing the splendor of nature to an attentive audience."I see poetry as an act of discovery," she said.  One of her poems, Prairie Grasses" described the various flowers and grasses found on the prairie."Swanberginterspersed an effective and unusual method of chanted the Latin botanical names of various flowers in the poem.
Swanberg introduced five additional area poets and writers who entertained the audience with selections from their works:
Sandra Fenton, a Rockton resident and Rockford University graduate and past editor of the college's literary journal "The Feast." read several of her unique pieces. "Sandra is not afraid of taking creative leaps in her poetry which makes her voice strong and unique, not to mention a quirky and vivid sense of humor," Swanberg said.
Two-time Pushcart nominee,Wilda Morris of Chicago, read a selection of her poems.  Morris has published over 400 poems.  She is the past president of Poets & Patrons of Chicago and current secretary and past president of the Illinois State Poetry Society.
Her book "Szechwan Shrimp and Fortune Cookies: Poems from a Chinese Restaurant was published by RWG Press.  In June, 2015, she led a workshop at the Printer's Row Lit Fest in Chicago.
Ed Cope has worked for the last two years as the Restoration Ecologist for Natural Land Institute (NLR).He is a Hononegah High School graduate and has a B.S. degree in Land Rehabilitation and Natural Resource and Rangeland Ecology and Wildlife Habitat and Management.
Cope's work includes writing and creating guides on ferns and freshwater mussels in Winnebago County.  He has written several articles for NLI publications.
Chelsea Peterson is a Hononegah High School graduate.  She will be attending Cornell University in the fall in pursuit of an environmental engineering degree. She has been a volunteer for NLI for the past several years.  While at Hononegah, Peterson started the GAIA Environmental Club and recruited member to volunteer for land stewardship days.  She writes poetry and prose reflecting her experiences in nature.
Lani Richardson graduated from Beloit College. Richardson taught English as a Second Language at Rockford University.She currently lives with her family where she now serves as support staff for her mom and dad, husband and sons.She is the author of several poems inspired by her walks in the woods and prairies.
Nygren Wetland Preserve is part of the Natural Land Institute a non-profit land trust and conservation organization based in Rockford, IL.  Nygren is located at 3190 W. Rockton Road, in Rockton.