Belvidere North varsity football team falls to Auburn
By Eric Hipp
REPORTER
Belvidere North started strong in their conference game against the Auburn Knights. They opened the game with a 19-play, 73-yard drive which used nine minutes off the clock. A one-yard run by North quarterback Bennett O'Connell finished the drive. The PAT by Tanner Mateus was good and North led 7-0. Overall, the Blue Thunder held onto the ball for over 17 minutes in the first half.
Auburn felt the pressure to score before the half ended. Auburn scored twice in quick succession to close out the half with the lead. DreQuan Friar scored on a 54-yard romp to close the gap to 7-6. KeonteDismuke found the end zone after a 4-yard run and Auburn headed into the locker room leading 12-7 at the half.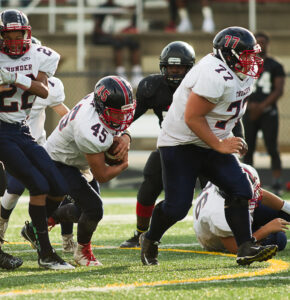 The second half was all Auburn with Nathan Jarrett scoring on a three-yard run then completing a 12-yard pass to Kavaceiah Jones. Auburn finished the game by scoring once again in the fourth quarter with Jarrett connecting on a 15-yard pass to Yahmir Muhammad for the final score of 31-7. Auburn amassed 485 yards total offense against Blue Thunder.
The game put both Auburn and North squarely in the middle of the standings for the NIC-10. North dropped to 1-2 while Auburn moved to 2-1. Hononegah also lost their game Friday night to drop their record to 2-1, making a three-way tie with Belvidere North and Auburn behind undefeated Harlem and Boylan.
North's O'Connell completed no passes going 0-3-0-0 and rushed for 61 yards on 15 carries. Jason Rodgers was top rusher for North with 19 carries and 77 yards.
North blanked Auburn 12-0 in the JV game. North scored first on an interception return midway through the second quarter. North scored again just prior to the end of the half to make the score 12-0.