Boylan resurrection occurs in game against Bucs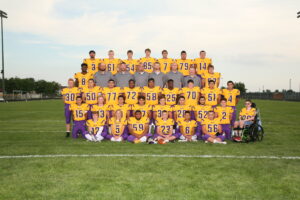 By Bob Kopp
BDR SPORTS CORRESPONDENT
With the stands and press box filled with Titans parochial partisans screaming encouragement after the momentum seemingly shifted in the favor of the hosts after senior 2015 first-team all-conference quarterback Austin Revolinski hit tough-as-nails senior Will Morris with a 10 yard strike to pay dirt that closed the gap to 16-12, Boylan stunned their hosts with a 99 yard TD strike from senior quarterback Zach Couper to senior Tyresse Washington that burst Belvidere's bubble and may have announced the resurrection of football at Boylan after two disappointing seasons climaxed by last year's failure to make the playoffs.
As the smallest school in the NIC-10 that cannot fill a roster for freshman football, the Bucs must rely on superbly skilled and well-coached athletes along with new faces in the trenches without the depth to endure injuries or other disruptions to its thin roster.
Only eight starters returned – four on each side of the ball – and some players expected to make major contributions to the team have opted to concentrate on developing their proficiencies in other sports for college.
Those liabilities may haunt the Bucs after several successful seasons under Head Coach Chuck Leonard who provided this forecast prior to kickoff: "Our strengths are a hard-working group of young men and the leadership of our returning senior starters."
Couper and Revolinski, all-star rivals on the football field and basketball court, were typically proficient as two of the NIC-10's featured signal-callers.
Couper went 9-10 for 292 yards with TD tosses to Washington, junior Adam Newton (29 yards), and junior Caleb Henderson (78 yards).  Showing shiftiness in his escapes, he ran for a nifty 75 yards on 10 attempts.
Behind a young and developing line, Revolinski still managed to churn out 24 yards on the ground and connect on 25-40 for 252 yards through the air punctuated by scoring strikes to Morris and junior Phil Kolk (59 yards).
Things get tougher for Belvidere as the Bucs travel to North next Friday.  After totally thumping Jefferson 49-28 in a game not remotely as close as the final score, North may be the only team in the conference capable of derailing Auburn's expected run of the table on the way to a state championship.