Vikings come out strong to defeat conference rival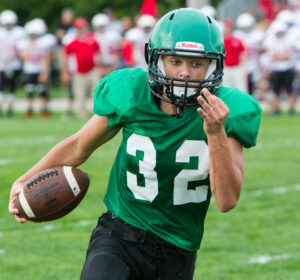 By Eric Hipp
REPORTER
Stillman Valley struggled against North Boone in the varsity game on Friday, Aug. 26. The Stillman Valley junior varsity team managed to take a win home for the Cardinals.
The games brought intense momentum to the field in the first clash of the season between conference rivals.
For many years, the Cardinals were in the West Division of the Big Northern Conference while North Boone played in the East Division. A recent realignment of the conference now has 11 teams in one division.  The two teams last met in 2006 for a non-conference game.  Stillman Valley won the game 36-12.
North Boone junior varsity struck first scoring a touchdown and missing the conversion. Stillman retaliated by running the ball on North Boone. Using mostly off-tackle runs and a few sweeps, the Cardinals wore down the Vikings and took the victory with a score of 32-22.
North Boone started the varsity game strong taking a 13-7 lead over Stillman. North Boone was leading 21-13 when a 56-yard touchdown romp by Andrew Wilhite tied the score at 21-21. North Boone took the lead 28-21 after another Wilhite touchdown run of 14 yards.
A 10 yard pass from Morris to Ethan Rydell put North Boone in the lead at 37-34.
With 10:35 remaining in the fourth, quarter Brady Atchison scored again on a five-yard touchdown run. North Boone drove to Stillman's 20 yard line. The comeback failed with an incomplete pass on a desperate fourth and ten pass attempt.
Atchison lead Stillman Valley with 128 yards rushing and North Boone's Morris finished with 317 yards passing and 124 yards rushing.