Santa comes to Ida Public Library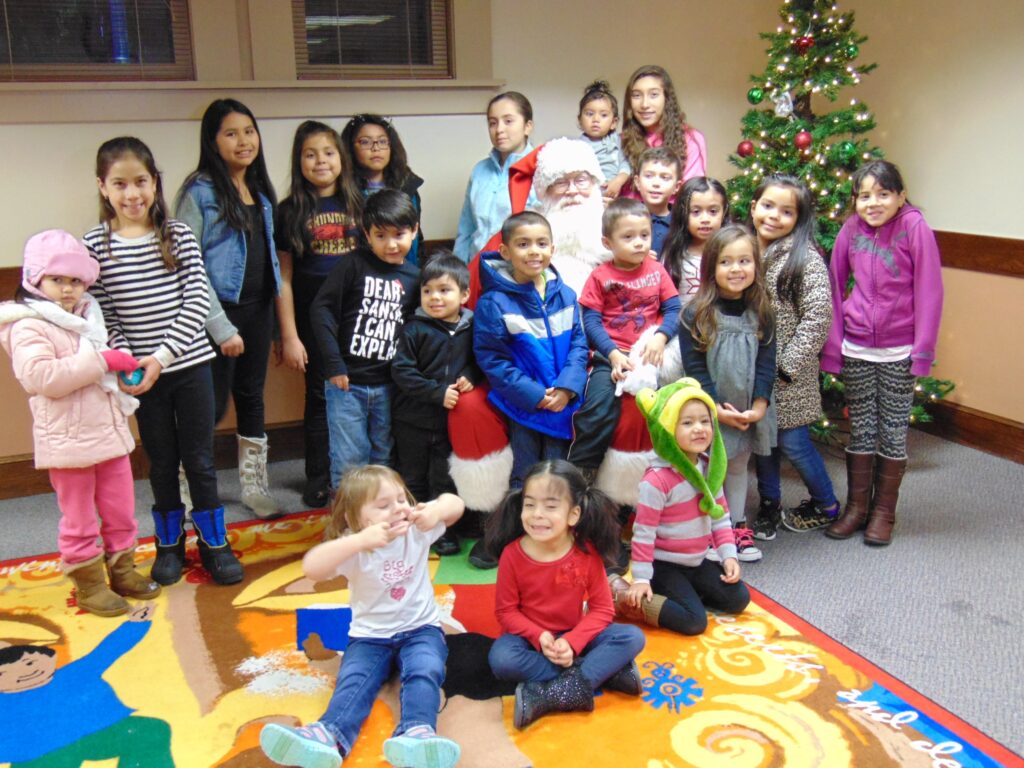 By Anne Eickstadt
REPORTER
Families braved the blowing, snowy night on Friday, Dec. 16 to visit the library and meet Santa Claus. Santa was coming to meet the weekly story time group.
"Santa is coming to my bilingual reading storytime for children up to the age of 6-years-old. This story time is held at 6:30 p.m. on Fridays. We read a book and do a craft," Maria Lopez, of Ida Public Library, said. "We do this story time to motivate the whole family – little ones, siblings, parents – to come to the library. Today we are reading both It's Christmas, David by David Shannon and Sally's Christmas Miracle by Charles M. Schultz."
Friday's craft was a Christmas Counting Chain. Once the child brought the chain home, they could remove one link in the chain each night until, on Christmas Day, only the top ornament would be left.
"The children will be able to meet Santa personally and ask him for what they want. They can have their pictures taken with Santa. It is more personal than at a shopping mall and helps the parents out," Lopez said. "Having Santa here is one of the ways that the Ida Public library can thank families for their support. It's expensive for families to go take a picture. Prices are unbelievable. Santa Bill has been the Ida Public Library's Santa for 15 years. He grows his own beard. He does so well with the kids. He is very welcoming and friendly. The kids open up to him. We have bilingual story times to bring in more of the Hispanic community and to assist children in learning a second language. We have bilingual books and materials here. Parents want their children to learn both their native language and English. It can work the other way as well, assisting English speaking children to learn Spanish.
The Ida Public Library story times are fun and interactive opportunities for children to build literacy and reading readiness skills. Story times also help build social skills in a structured creative environment. Each of Ida Public Library's storytimes is specifically tailored to the age-group for which it is intended, using developmentally appropriate stories, games, crafts, and activities based on up-to-date research in early childhood methods and literacy practices.
Ida Public Library is located at 320 N. State St. in Belvidere. For more information, call (815) 544-3838 or go online to www.idapubliclibrary.org. The library is open Monday through Friday 10 a.m. to 8 p.m., and Saturdays from 10 a.m. until 5 p.m.