Lend Me a Tenor opens to laughter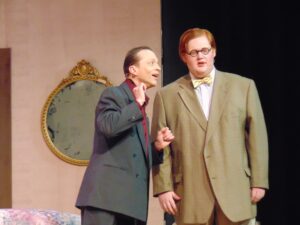 By Anne Eickstadt
REPORTER
On Friday, Feb. 10, the Main Street Players of Boone County presented their premiere of Ken Ludwig's comedy, Lend Me a Tenor. The play ran Friday, Feb. 10 and Saturday, Feb. 11 along with Friday, Feb. 17 and Saturday, Feb. 18 at 7 p.m. and on Sunday, Feb., 12 and Sunday, Feb. 19 at 2 p.m. The performances took place at the Community Building Complex of Boone County, located at 111 W. First St. in Belvidere.
The play takes place in 1934, in a hotel suite in Cleveland, Ohio. The play centers on Saunders, the general manager of the Cleveland Grand Opera Company. Saunders is primed to welcome the world famous Italian, Tito Morelli, the greatest tenor of his generation. Tito will appear, for one night only, as Othello.
The star arrives late, with his jealous wife, who accuses him of flirting with other women and leaves him. When the heart-broken tenor learns that Max is an aspiring opera singer, Tito kindly gives Max a singing lesson, teaching him to "loosen up" and sing with more confidence.
Through a hilarious series of mishaps, Tito takes a double dose of tranquilizers and passes out. The sleep is so deep that Saunders and his assistant, Max, believe he is dead. Saunders manages to convince Max to pretend to be the great tenor and take his place onstage, in costume, wig and blackface, so that he does not have to disappoint the sellout crowd (or return their money).
At this point, women begin knocking on the door, eager to meet the great man, and none of Saunders excuses are accepted. The bellhop also is in and out of the suite, attempting to meet his idol. Women are hiding in the closet and the bathroom and streaming in and out of all the doors.
Once Saunders has convinced everyone to go to the theater for the show, Tito Morelli wakes up, gets into costume and heads for the theater as well.
Act 2 continues the fun with mistaken identities as two Othellos roam in and out, the police searching for one of them, and the women convinced that whichever one they are with is the real tenor.
"I had a fun part," Pete Gulatto, who played the Bellhop, said. "The show is quick-paced, funny, and very enjoyable to be in. The director, John VanNest, gives us leeway to have fun. These kids, I'm the oldest one here, worked their tails off for this show. They are dedicated. I can't say enough about them."
All of the cast members agree, it has been a long road to the stage.
"We've put a lot of hard work into it. It's funny,' Noah Collins, who played Max said. "We have a wonderful cast; it wouldn't be the same without them. It's a blast."
The play was overall a real feel good time for everyone involved.
"If you come away from the show feeling good, we've done our job," Keith Burritt, who played Henry Saunders, said.
For further information, visit www.mainstreetplayersofboonecounty.com.