SVHS student Luke Robert selected to IHSA All-State Academic Team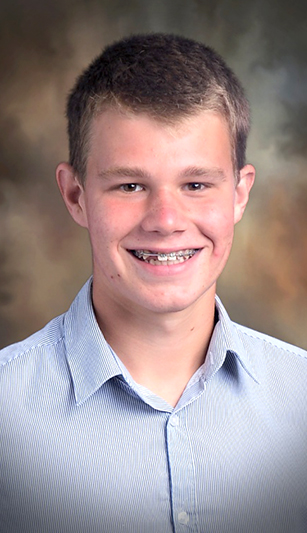 SVHS student Luke Robert selected to IHSA All-State Academic Team
The Illinois High School Association (IHSA) is proud to announce the 26 students who have been selected to the 2018-19 All-State Academic Team sponsored by Caterpillar. The 13 male and 13 female honorees of the IHSA's top academic honor were chosen from a group that included over 400 students throughout the state.
"This is a tremendous honor and I hope every student who was nominated takes a great deal of pride in all that they have accomplished," said IHSA Executive Director Craig Anderson. "These students are the embodiment of what it means to take advantage of the entire high school experience. I am thankful to Caterpillar for providing the All-State Academic Team platform to honor and congratulate them."
Every IHSA member school was invited to nominate one female student and one male student by the February deadline. Nominees needed to possess a minimum 3.50 grade point average on 4.0 scale after their seventh semester, have participated in at least two IHSA sponsored sports or activities during each of the last two years and demonstrated outstanding citizenship. The nominations were evaluated by a committee made up of IHSA principals, representatives of the Illinois Activities Directors Association and representatives of the Illinois Athletic Directors Association. One male winner and one female winner from each of the seven IHSA Board of Directors Divisions were selected initially, while the final 12 spots on the team were then rounded out with at-large candidates from anywhere in the state.
"It is legitimately hard to think of a more perfect high school resume than the one Luke has established for himself. There is literally no room for improvement on the academic side – none. Athletically, not only is he involved, but he excels. This is the clear and simple things you can learn about Luke from reading a spreadsheet or a transcript. What is not stated in those data based documents is that he is kind and genuine. It does not denote how hard he pushes himself and how much that positively impacts his peers. What it does not capture is that he is a true leader among leaders. This is one of many accolades that Luke will earn. Meridian CUSD and SVHS are privileged to have been a part of his journey which will lead to incredible places," said Superintendent, Dr. PJ Caposey.
Luke was selected because he is an integral part of athletics, activities and academics at Stillman Valley High School. He was a member of the varsity soccer team and football team this past fall. He has the distinct honor of making the All-Conference team in both sports in one season. He also is on the Basketball team, Baseball team, Math team, Student council, Principal Student Advisory Committee, WYSE team, choir and has had leads in the school musical 3 years. Luke has a GPA of 4.293 and qualified as National Merit Scholarship Commended. Next year he will be studying Aerospace Engineering.
Luke states, "I am honored to receive this great award. I am thankful to the IHSA for this opportunity."
The All-State Academic Team members will be honored at a banquet at the DoubleTree Hotel in Bloomington on April 15.