University of Illinois Extension Boone County hosts Super Saturday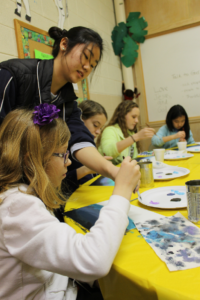 The University of Illinois Extension Boone County 4-H program presented Super Saturday for its members on Saturday, Feb. 4, at the Evangelical Church in Belvidere. Forty-five 4-H members from Boone County participated in 21 different project workshop sessions.
Super Saturday was organized by the University of Illinois Extension Boone County 4-H office and offered 4-H members from Boone County the opportunity to learn new skills.
The workshops included rocketry, dog obedience, photography, sewing, scribblebots, knitting, woodworking, tie blanket, egg-cellent cooking, the art of the perfect grilled cheese sandwich, Italian cooking, cartooning, terrarium, card-making, electricity, theatre arts, scrapbooking, and cake decorating. Volunteers from throughout the county gathered to make the classes both fun and educational.
In addition, some older 4-H teens gained leadership skills by organizing and teaching some of the classes as well.  Each 4-H'er could take up to five classes and each of the classes included hands on learning and something to take home with the 4-H'er at the end of the day.
"Learning by Doing" is the 4-H motto and that is exactly what Boone County 4-H'ers who participated in the Super Saturday event did. 4-H'ers learned skills like using a drill and router, how to complete an electrical circuit, using a sewing machine, drawing techniques, and how to use their cameras, as well as other skills.
"It is so fun to see the kids excited about learning and to see them showing off their projects to their friends and leaders," Melissa Irwin, Boone County 4-H Program Coordinator said.
"Super Saturday gives 4-H'ers an opportunity to experience new skills, and they have something to take home with them from each class to help them remember the day by."
Boone County 4-H is accepting enrollments for new members. To find out more information about the 4-H program, please contact the Boone County University of Illinois Extension Office at (815) 544-0193 or visit our website at http://web.extension.illinois.edu/bdo/.